Companies
Why we created the Lookerbot for Slack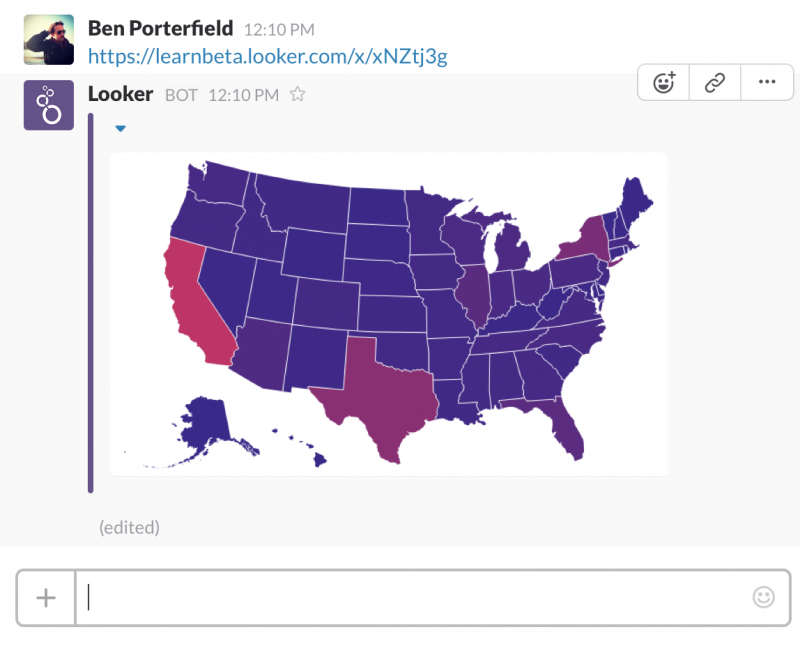 By Sara Isenberg
Founder, Publisher, Editor-in-Chief, Santa Cruz Tech Beat
March 17, 2016 — Santa Cruz, CA
Looker just announced Lookerbot, the first enterprise data platform to integrate with Slack. Lookerbot makes enterprise collaboration more efficient by bringing real-time insights into any conversation in Slack, eliminating the need to shuffle through applications looking for information.
Meanwhile, if you're looking for the deeper scoop, read Ben Porterfield's story behind the press release: Why we created the Lookerbot for Slack. Porterfield is Co-founder and VP of Engineering at Looker.
"At Looker, we tried out Slack about a year ago and knew almost immediately that it was for us. Our email was already (and still is) overflowing with giphy images and emoji reactions. Slack felt like the perfect platform for our internal gif-and-emoji-reaction culture. I suppose that it also worked reasonably well for chat."
Slack Your Data with the Lookerbot from Looker on Vimeo.
"Nowadays we're heavy users: departmental discussion channels, project-based channels, channels for one-off topics, and a whole lot of gifs. We're starting to resemble a hip modern family 😍. We love it! (Here's a tip for you Slack users: if you don't know about Esc and Shift-Esc in Slack, LOOK IT UP)"
Continue reading article here: http://www.looker.com/blog/slack-your-data
###
Tagged Looker