Companies
Meetup Brings Ag and Tech Together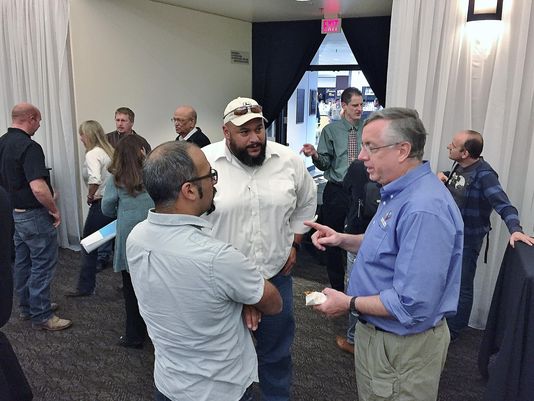 By David Castellon
The Californian
March 17, 2016 — Salinas, CA
(Photo above: Attendees of the Agtech Meetup talk last Tuesday night at the National Steinbeck Center in Salinas. The event brought people in the agricultural industry and technology developers together to work on and possibly create new technology for agriculture. Credit: David Castellon)
When it comes to wind and solar farms, Chris Bley knows a lot, as his Santa Cruz-based company uses drones and larger aircraft to inspect those farms and power lines from the air.
But it's other types of farms — the kind where lettuce, berries and other produce are grown — that the chief executive officer of InspectTools doesn't know much about.
He was in Salinas Tuesday night to work on changing that. He was among more than 70 people who attended the latest Agtech Meetup at the National Steinbeck Center.
Over the past couple of years, other free meetups have been put on by AgTech Insight, a Salinas business that connects those in agriculture with the technology they need. Company CEO Aaron Magenheim developed the program to give members of the Central Coast's ag sector and technology developers from the Silicon Valley and elsewhere a place to discuss development of technologies that could benefit the agricultural industry.
Tuesday's meetup was different from the dozen that came before, as the latest event for the first time involved additional sponsors — the City of Salinas Economic Development Department; the Monterey Bay Economic Partnership; the Monterey Bay Economic Partnership; California State University, Monterey Bay's College of Business, the Western Growers Center for Innovation and Technology, and South Swell Ventures, a Santa Cruz venture capital firm.
Continue reading article here: http://www.thecalifornian.com/story/news/local/2016/03/17/meetup-bring-bring-ag-tech-together/81946124/
###
Tagged agtech