Companies
The sweet story of Inboard's love affair with Santa Cruz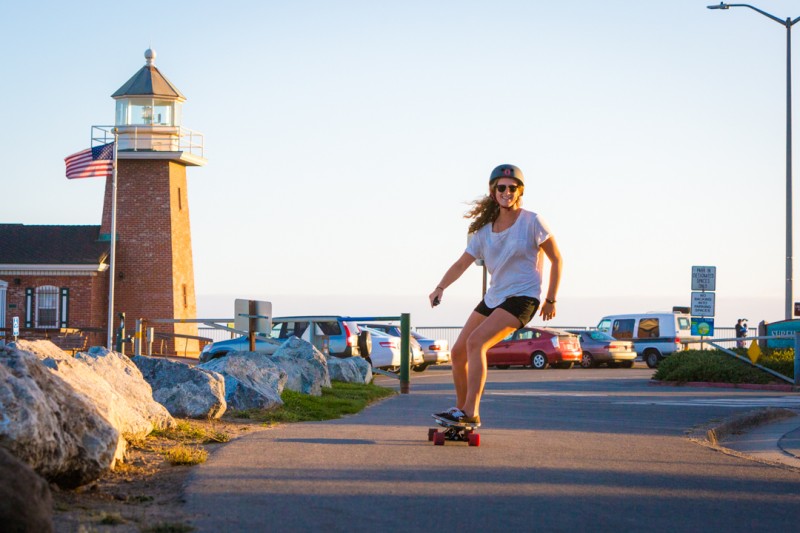 By Ryan Evans
CEO and Co-founder, Inboard Technology
Special to Santa Cruz Tech Beat
February 25, 2016 — Santa Cruz, CA
(Photo above: Inboard Product Designer Paige Doolin rides the M1 near Lighthouse Field in Santa Cruz. Contributed.)
[Editor's note: As this goes to press, Ryan Evans is presenting the Inboard M1 as a finalist for IoT Mobility Innovation of the Year at the Mobile World Congress in Barcelona, Spain.]
Legacy skate meets futuristic tech
Santa Cruz is world-renowned for its rich history and culture of action sports. From Santa Cruz Skateboards and Stretch Surfboards to Santa Cruz Bicycles and of course the O'Neill brand, Santa Cruz has left an indelible mark on action sports. Now, like all things, action sports and outdoor sports are being enhanced with new technology. Thanks to Santa Cruz's long history and our proximity to the technology hub of Silicon Valley, Santa Cruz is well positioned to continue its global influence for another generation.
Technology that flows
Our company, Inboard Technology, was formed with a single goal: facilitate the adoption of technology in action sports while embracing the heritage of our unique culture. We channeled that goal into our first product, the M1 electric skateboard, the first electric skateboard with motors inside the rear wheels. With the M1 and the products to follow, we're not interested in adding frivolous technology, but rather in creating technology that enhances the rider's experience. We look to create technology that flows.
The emerging market of "rideable technology" products consists of any lightweight (under 25 lbs.) electric vehicle for personal transportation. These products range from two-wheeled self-balancing scooters (hoverboards), to electric scooters, electric skateboards, and of course the OneWheel.
Manta Drive is born
I met my business partner, Theo Cerboneschi, while we were sponsored athletes riding for the same brand. We quickly became close friends thanks to our mutual affinity for technology, especially applications within action sports. Theo was building, flying, and filming with drones before most of the world even knew what they were. A constant inventor, Theo would take spare drone motors and attach them to the bottom of his skateboard after his bicycle was stolen in Santa Monica. Due to the constant adjustment and replacement of the rubber belts that made up the drivetrain, Theo knew he could engineer a better solution. That's when Inboard's revolutionary Manta Drive in-wheel motor technology was born.
We knew we'd have to be near Silicon Valley
Early on Inboard had a basic prototype and a vision. In order to succeed we knew we would need to build the best team possible for the future. We knew we'd have to be near Silicon Valley, but we struggled with the idea of waking up every day so far from the ocean and the action sports that were the impetus for developing our brand and products. We decided that the perfect place for our company is in Santa Cruz.
Santa Cruz connections
As any entrepreneur will tell you, there are certain moments in the business development journey when things just "click." Inboard needed to hire someone who could facilitate our need for high volume manufacturing, while also being an action sports participant. We found these unique skills in Santa Cruz local Brian Eiseman. Brian worked in Product Development for BRG Sports in Scotts Valley, Surftech, and was the most respected Product Director we could find. When we hired Brian we moved Inboard from its original office in Burlingame, CA to our current location in the Research Park area of 41st and Soquel.
Within a week of moving to Santa Cruz we met Doug Erickson. Beyond being one of the nicest and most positive humans I've ever met, Doug is a connector. He selflessly looks to create connections that would better the lives and businesses of Santa Cruz. Through Doug's network, we were introduced to Bobbi Burns and Ed Colligan of the Central Coast Angels (CCA). CCA has a simple goal, one that is closely aligned with Inboard's: to create and invest in technology companies that will create jobs and economic growth in Santa Cruz County and the Monterey Bay region.
Thanks to these aligned goals and philosophies, CCA invested substantially in Inboard. CCA wants to see Inboard have a positive impact on the local economy and create a highly visible (global) consumer-facing technology brand that can help build off of, and propel, the action sports heritage that Santa Cruz helped create.
One foot in technology and the other in action sports
This, in essence, is Inboard's biggest goal. We're a company that has one foot in technology and the other in action sports. With the integration of technology into all facets of consumer products, it has become undeniable that this same trend will manifest in the sports and culture Santa Cruz has helped cement on a global scale. Inboard looks to help Santa Cruz maintain this influence into the future through development of technologies in new areas and working closely with the athletes who will use them. Thanks to our team of action sports athletes, from engineers to operations, we're confident in our ability to accomplish this goal while being mindful of all those who have come before us.
Flagship product ships at the end of April
Inboard will begin shipping the first units of its flagship product, the M1, at the end of April 2016. These boards will be assembled in Santa Cruz — the place they were designed, engineered, and tested. As Inboard continues to grow, we'll be looking to hire more engineering talent from the local Santa Cruz community. So if you happen to know an electrical engineer, mechanical engineer, or mobile app developer tired of driving over the hill every day, and looking for a position at a fun and challenging company making transformative products, please always feel free to reach out to us directly. My email is Ryan@InboardTechnology.com.
###
If you wish to republish this article, please follow our Terms of Use.
###
Tagged Inboard Technology