Companies
Cruzio Co-founder Keeps Santa Cruz Connected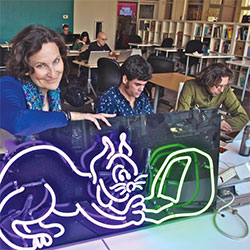 By Christina Waters
Good Times
February 25, 2016 — Santa Cruz, CA
(Photo above: Peggy Dolgenos of Cruzio Internet in the Cruzioworks coworking space in downtown Santa Cruz. Credit: Chip Scheuer)
Peggy Dolgenos is 1,000 percent committed to connectivity. At the epicenter of all things Cruzio, Dolgenos seeks not only faster, bigger cyber connections for her community, but also enriched real-world connections among the clients she serves.
Cruzio, started up 26 years ago by Dolgenos and her partner (in life and in business) Chris Neklason, is a rare and feisty independent entity. Competing successfully in the Internet Service Provider arena of big companies like AT&T and Comcast, Cruzio aims to provide even higher-speed low-cost Internet access in the very near future.
The santacruzfiber.com project is all about getting gigabit high-speed, low-cost Internet—currently available in the Cruzio headquarters on Cedar Street—to the greater Santa Cruz community. With enough buy-in from residential and business users, the gigabit (a thousand megabits per second) fiber optic initiative would lay fiber to provide data uploading and downloading at speeds currently available only through costly large telecom providers. The difference is that this service would be locally owned and independently operated. "Enough people will have to sign up, we need buy-in," Dolgenos explains. "The more subscribers, the lower the fees. We'll be able to provide from 10 to 100 times the speed for the same money."
Cruzio's fiber connectivity benefited from the time when UCSC wanted to bring fiber to its campus. "That gave us the opportunity to work with the same company to bring fiber all the way down into the City of Santa Cruz," says Dolgenos. "Cruzio's connection is private and separate from UCSC's—we're leasing lines that go along the same path as the lines UCSC is leasing." Currently, Cruzio has "the best connected building in the county," but now Dolgenos has set her sights on "fibering up" the rest of the Santa Cruz community. "It's such a good project. We approached the city about partnering with us, and they said yes. We believe in it—it seems right to offer it to everyone. There's an economy of scale to doing it all at once, and reaching out to regions beyond the downtown." And, yes, that means Dolgenos would like everyone to take the gigabit project survey.
"We were always open to big things, to big projects," Dolgenos recalls. "We were both computer programmers for Santa Cruz Operation. And we thought we were going to change media, from a broadcast paradigm to one that empowered the user."
Continue reading article here: http://www.gtweekly.com/index.php/santa-cruz-news/santa-cruz-local-news/7309-path-finder.html
###
Tagged Cruzio