Companies
Catching Fiber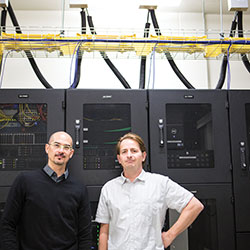 By Kara Guzman
GoodTimes
January 14, 2016 — Santa Cruz, CA
(Photo above: J. Guevara, left, the city's economic development manager, and James Hackett of Cruzio have been working together on game-changing broadband. Credit: Keana Parker)
Private-public partnership creates universal access to high-speed Internet in Santa Cruz
Santa Cruz's brain drain of 20,000 residents commuting over the hill for better pay may soon be a trend of the past.
If all goes as planned in an unprecedented deal between Santa Cruz and local service provider Cruzio, gigabit fiber Internet—the gold standard for speed—will be available to all homes and businesses in the city by 2018.
The roughly $45 million project is the first of its kind in the outer Silicon Valley area, and promises to launch Santa Cruz to the forefront of the tech industry, says J. Guevara, the city's economic development manager.
Similar projects such as Google Fiber have built high-speed networks in cities like Kansas City and Austin, but only in wealthy neighborhoods. Only a handful of small cities across the nation offer fiber connectivity to all.
"We're solving our own market problems with a local company, through local government, to protect our community's interests," says Guevara. "This isn't solely about technology. The Internet is access to the world and all the ideas and all the things to come that we can't even foresee. With the so-called 'Internet of Things,' with self-driving cars, with how interdependent we've become in our daily lives, this is the groundwork and framework to make our lives more fulfilling and successful."
For years, Internet speeds in Santa Cruz have lagged behind Silicon Valley's, part of the reason so many professionals commute over the hill, Guevara says.
In June, Santa Cruz was ranked No. 447 out of 505 California cities for download speeds, according to Ookla, a network diagnostic company. The city also got a "D" grade for its Internet speeds from the Central Coast Broadband Consortium, an association working to bring high-speed networks to the region.
Continue reading article here: http://www.gtweekly.com/index.php/santa-cruz-news/santa-cruz-local-news/7192-catching-fiber.html
###
Tagged City of Santa Cruz Economic Development Department, Cruzio, Fiber