Companies
Community Partnership to Provide Free Wifi in Watsonville Plaza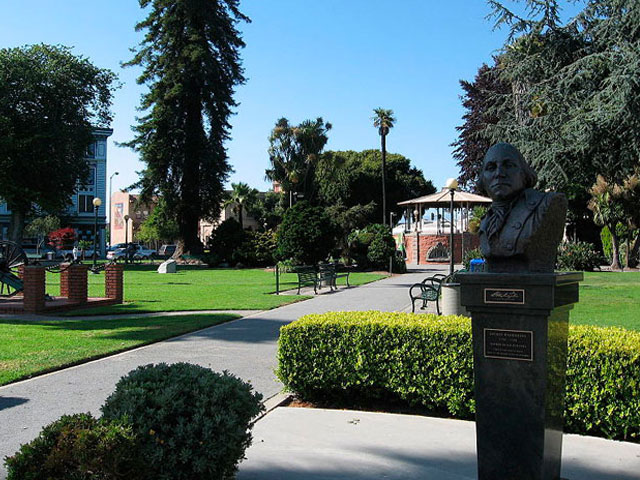 (Contributed)
January 24, 2018 — Watsonville, CA
Cruzio Internet/Santa Cruz Fiber to provide free WiFi in Watsonville Plaza as part of their service expansion to Watsonville.
Santa Cruz Fiber, a Cruzio service is partnering with the City of Watsonville, the Pajaro Valley Unified School District, and Digital NEST to provide free high speed WiFi in the Watsonville Plaza downtown. The community partnership comes as the local internet service provider has recently expanded its service area to cover most of Watsonville, including new high speed wireless hubs at the Watsonville Airport, and on Watsonville City Hall. The expansion also marks a significant investment by the City of Watsonville, which has made economic development a core priority.
"When we ask local businesses what they need to be successful, one answer we keep getting is the need for better internet speeds" says Matt Huffaker, Watsonville Assistant City Manager. "The City has made major strides toward becoming the most friendly city to do businesses with, and Watsonville continues to be at the forefront when it comes to fiber technology."
–
"Providing free WiFi to the Watsonville's downtown community close to the Plaza is one component of Pajaro Valley Unified School District's plan to assist students with bridging the homework gap" said Tim Landeck, PVUSD Director of Technology Services "Many PVUSD families don't have a reliable internet connection in the home which limits student's access to 21st century learning. Free, reliable wireless access in the Watsonville Plaza will assist students and their families who live close to downtown with easier access to online resources including the Footsteps to Brilliance early literacy resource recently rolled out by PVUSD for the community."
Digital NEST is a growing nonprofit that provides career development and tech skill training to underserved youth in Watsonville to address low levels of economic opportunity and high levels of poverty.
"Providing access to the internet is the first step towards providing equal access to information and opportunities to the broad community of Watsonville. This plaza is at the heart of the community and will  allow every citizen of Watsonville an access point to the digital world regardless of their personal income," says Jacob Martinez, Digital NEST's Founder and Executive Director.
While the WiFi in the plaza will be free and open to the public, Cruzio is also offering gigabit speed broadband to local businesses and residents in Watsonville, which could be a game changer when compared to the speeds that are currently available.
Cruzio is also adamant that its new Santa Cruz Fiber service is a Santa Cruz County-wide Fiber service, recognizing that South County often gets overlooked when new companies are deciding where to locate.
The free WiFi service will be available starting February 16h. On that day, we'll also be holding a launch party and reception to celebrate. More information about the project is available at SantaCruzFiber.com.
###
Tagged Cruzio, Santa Cruz Fiber, Watsonville