Companies
Future Motion, Onewheel Raises $3.2M in Series A Funding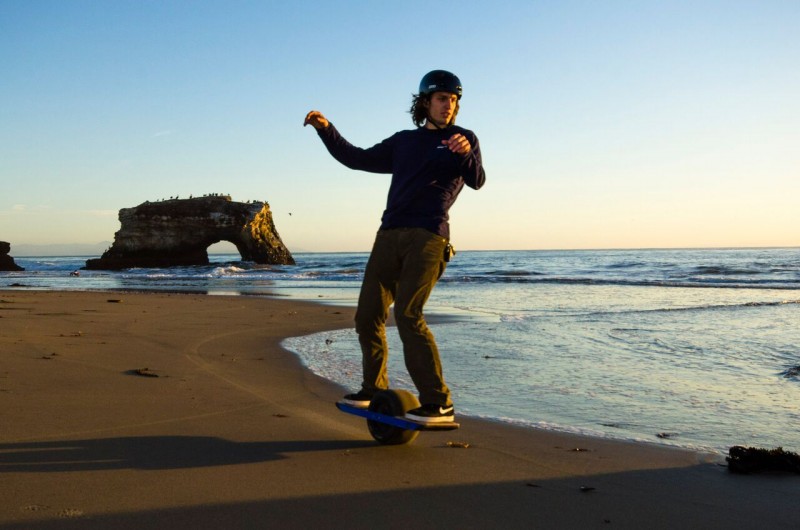 By Sara Isenberg
Founder, Publisher, Editor-in-Chief, Santa Cruz Tech Beat
February 3, 2016 — Santa Cruz, CA
(Photo above: Onewheel skater shows off the board in front of iconic scenery at Natural Bridges State Park. Credit: Kevin Doty)
Future Motion plans to open R&D center in Santa Cruz
Future Motion Inc., makers of Onewheel, the electric boardsport, today announced it closed $3.2 million in Series A funding to expand operations, ship more Onewheels, and innovate next-generation products.
The Onewheel board, which connects to your smartphone, has an electric motor with a lithium iron phosphate battery. It can go up to 16 miles per hour.
New investor Deshe Holdings led the round, with participation from sports marketing leader Paul Crandell. "Ever since I first tried the Onewheel, I knew it was a category-defining product," said Elie Deshe, Partner, Deshe Capital LLC. "Personal mobility is the next technological wave, and Future Motion's Onewheel is uniquely positioned to lead the industry. We're glad to support Kyle and his team during this exciting period of growth."
Future Motion will use the new funding to increase manufacturing capacity and expand their team, particularly in engineering, marketing and operations. The company is building a new R&D center in Santa Cruz with advanced equipment to develop next-generation recreation-transportation products.
"This round of funding allows us to scale up to reach the overwhelming market demand for Onewheel," said Kyle Doerksen, CEO of Future Motion. "Electric transportation is taking over the world, from cars to motorcycles to bikes and personal digital vehicles like Onewheel. Since software and sensors define the ride experience, the technology is getting better incredibly fast. Consumers are demanding high-quality, safe products from reputable companies that deliver unmatched experiences."
Future Motion is also opening a European distribution and service center to accelerate growth in Europe while providing fast shipping to customers and after-sales support. Onewheel was just awarded the prestigious ISPO BRANDNEW 2016 award at ISPO, the world's largest sporting goods show in Munich Germany.
The company vigorously protects its Intellectual Property as it protects safety and a ride experience that cannot be replicated by knock-offs. Federal law enforcement packed up a booth of a company that was showing off a knock-off product at CES last month.
Additional Series A funding was contributed by DSCN Capital, Hallet Capital, and Lighthouse Capital. They join existing investors Rock Point Capital, Urban.Us, Scott Cannon, founder of Mailbox (acquired by Dropbox) and Charles Crowe, former board member of Quiksilver.
About Future Motion Inc.:
Founded in 2013, Future Motion Inc. is revolutionizing personal mobility by creating vehicles that combine unprecedented function, maneuverability and fun. Future Motion Inc. was founded by Kyle Doerksen, who holds a B.S. in Neuroengineering (2004) and an M.S. in Mechanical Engineering (2005) from Stanford University. Future Motion's introductory product Onewheel, was launched in January, 2014 at the Consumer Electronics Show (CES) and is rapidly defining a new category in commuting, transportation and board sports. Headquartered in Santa Cruz, Future Motion Inc. is a venture-backed company focused on the development of advanced personal vehicles and is committed to delivering a safe, high-quality riding experience to its customers.
###
Tagged Future Motion, Onewheel