Companies
Riding the Revolution in Electric Transportation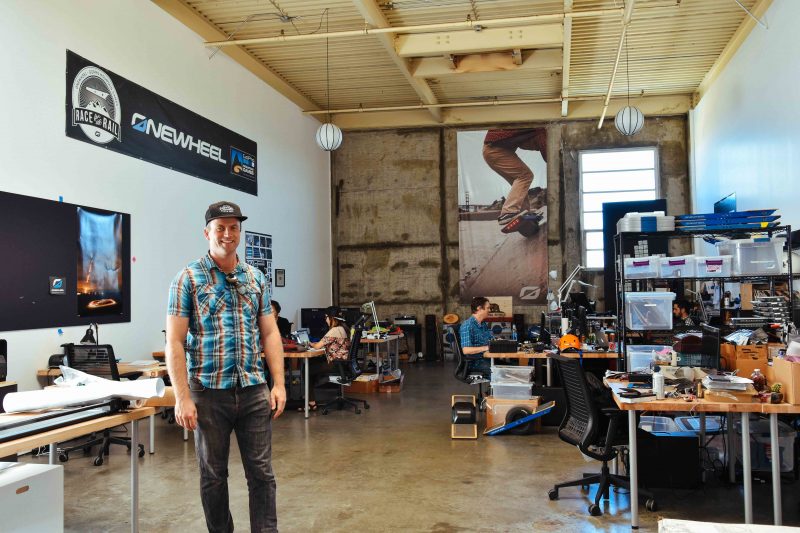 By Amanda Rotella and Rebecca Unitt
City of Santa Cruz Economic Development Department
July 7, 2016 — Santa Cruz, CA
(Photo: Onewheel inventor, Kyle Doersken, shows off company headquarters on the Westside of Santa Cruz. Contributed)
A category of its own
When you think of the sports scene in Santa Cruz you most likely think of surfing, mountain biking and skateboarding, which are all powerhouse sectors in our community, but recently our small town on the coast has become a magnet for what could be described as sports tech and the evolution of recreation through electric power. We are home to electric bike companies, electric skateboards, and now a creation in a category of its own, the Onewheel.
Onewheel is the invention of Kyle Doersken, founder of Future Motion Inc., who originally started his company in Mountain View and chose to relocate to Santa Cruz to build his team and work on the research, development, and sales of this revolutionary boardsport. We met with Kyle at the Onewheel headquarters in the Wrigley Building, which was formerly a gum manufacturing plant and has transformed into the coolest incubator of art, tech, and active lifestyle oriented businesses, to talk about how Onewheel was born, why he chose Santa Cruz as the home for his business, and where he sees the company going in the future.
To get an exclusive look into the world of Onewheel and the people who are working on this revolutionary boardsport watch their new video, "Inside Onewheel HQ".
Inside Onewheel HQ, Santa Cruz, CA from Onewheel HQ on Vimeo.
Continue reading article here: http://choosesantacruz.com/journal/2016/onewheel
###
Tagged Onewheel