Events
Startup Weekend Monterey Bay: "Best one in four years!"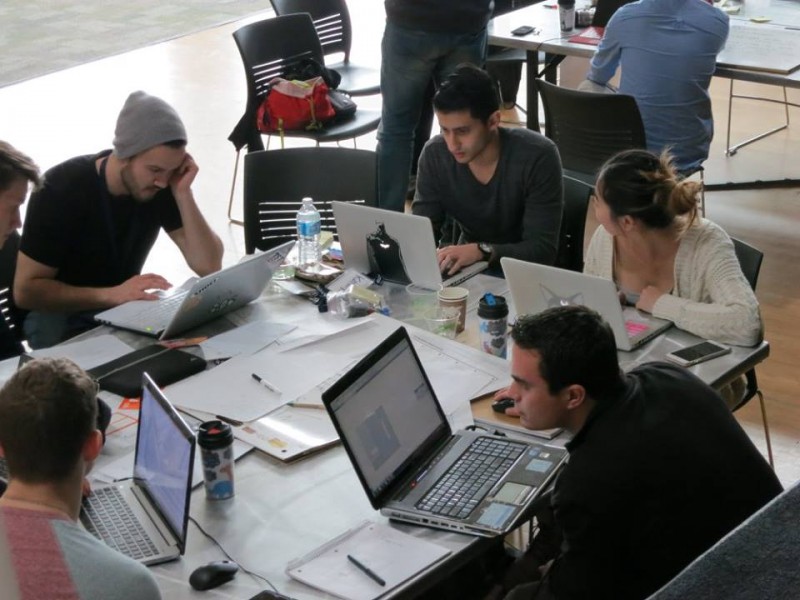 (Contributed)
February 1, 2016 — Seaside, CA
(Photo above: Students focus intensively on their team projects at CSUMB's Startup Weekend Monterey Bay over the weekend. Contributed.)
"This event not only infuses the excitement of entrepreneurship to our campus and our region, it cultivates the pipeline of innovation and startups for the future."
The fourth annual Startup Weekend Monterey Bay brought student entrepreneurs from CSUMB and other institutions to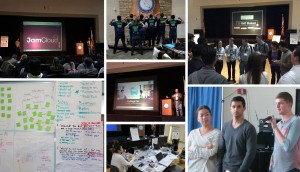 the University Center last weekend. The event featured nearly 100 participants. Twelve teams with start-up ideas were formed.
​The weekend began with open-mic pitches on Friday, where attendees are encouraged to bring their best ideas and inspire others to join their team. Teams then formed around the top ideas (as deemed by popular vote). After that, it was 54-hours of business model creation, coding, designing and market validation.
According to Mary Jo Zenk, Program Specialist at Institute for Innovation & Economic Development at CSUMB, "​It was a fabulous event – the best one in the four years!"
Eric Tao, Director of the Institute for Innovation and Economic Development at CSUMB, wrapped it up this way:
"2016 Monterey Bay Startup Weekend was such a wonderful experience for everyone, including over 40 students from School of Computing and Design and College of Business, 10 international exchange students, students from SFSU and local high schools, faculty from Naval Postgraduate School and Middelbury Institute for International Study, and many local and Silicon Valley professionals. This event not only infuses the excitement of entrepreneurship to our campus and our region, it cultivates the pipeline of innovation and startups for the future — what iiED@CSUMB has been striving for."
Quick summary of the teams:
On Sunday evening, teams demonstrated their prototypes in front of local entrepreneurial leaders with another opportunity for critical feedback. A panel of four judges picked the top three. The following prototypes were evaluated:
College Car — a student based Air B&B car rental service
Our Sommelier — wine pairing mobile application for millennials
My Relief — connects medical marijuana patients with ideal strains for their symptoms and tells where it can be found locally
Tinker — allows users to learn how to build hardware interactively for free
Front Man — an app that forms a network connection between venues, bands and fans for direct connection and scheduling of gigs
Stop Slop — an app for connecting the community to local government to identify hazardous areas for locals
JamCloud — social voting for music at parties.
GreenSuite — sustainable student home setup that is convenient, time saving, and affordable
FITNEX — a fitness scanning machine
Solar Rail: MAPR — personalized public transportation by rail
Verbose Lingo — specialized online language training for businesses large and small
StyleHit — artificial intelligence for men's fashion advice
And the WINNER are:
1st place: JamCloud
2nd place: My Releaf
3rd place: Solar Rail
Crowd Favorite: Stop Slot
Thanks to the coaches:
The following coaches came to help on Saturday and Sunday:  Al Budris, Kevin Cahill, David Chuck, Ted Cocheu, Nick Dahan, Bob DeVincenzi, Dante DiGregorio, John Dicconson, Susan Duggan, Elijah Woolery, Gene Gironmini, Jason Henderson, Matt Herman, Keith Holtaway, Jeff Kise, Jenny Lin, Bobbie Long, Carlos Lopez, Bob Maffei, Angie Nariswari, Lou Panetta, Krzysztof Piertroszek, Jonathan Shu, John Skardon, Eric Tao, Andy VanValer, Heiko Wieland, Christina Zhang.
And, thanks to the Sunday evening judges:
Marylou Shockley
Brooks McChesney
Ralph Widmar
Bob Kasavan
###
Tagged CSUMB, Startup Weekend Monterey Bay