Events
Startup Weekend: A nice marriage of technical and non-technical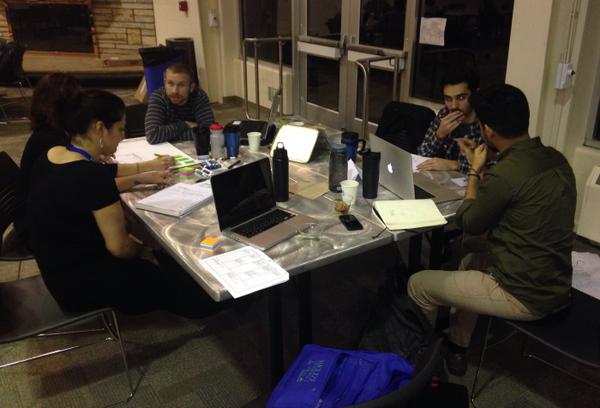 By Jonathan Partridge
Contributor, Santa Cruz Tech Beat
January 26, 2015 — Seaside, CA
(Photo above: Members of the Undo Sushi team are busy at work on Friday during the first night of Startup Weekend Monterey Bay. Photo credit: Jonathan Partridge)
A 54 hour business incubator offers platform for local entrepreneurs
CSU Monterey Bay's University Center transformed into a business incubator over the weekend (January 23-25), with students and area residents joining forces to create a range of ventures including farm management apps, food trucks and an Uber-like service to help drunk drivers.
The 54-hour-long Startup Weekend Monterey Bay gave more than 80 participants real world experience in launching business concepts before presenting them to a panel of judges. Participating teams integrated eye-catching websites and cell phone apps with workable business plans as they sought to perfect 11 projects, which included a winning proposal for a food truck that serves up sushi dishes.
"It's incredible to see what people can do in just 54 hours," said Chris Chang, southwest regional manager of Up Global, which runs Startup Weekend. "You give them the resources, and they can do some pretty cool things."
CSUMB's third year
This is the third year California State University Monterey Bay has hosted the event. More than 1,300 Startup Weekends took place worldwide last year alone. One of the main features that distinguishes Startup Weekend from a typical hackathon is the variety of attendees' interests, which include business and design along with computer science, Chang said.
"You get a nice marriage of technical and non-technical attendees," he said.
Brad Barbeau, assistant professor of marketing and entrepreneurship at CSU Monterey Bay, said this weekend's event was the best Startup Weekend that the university has hosted, adding that he would love to see a similar future event in Salinas with an agricultural focus.
Voting for most viable
Participants pitched a slew of project ideas Friday evening before voting on a dozen proposals that they thought were the most viable. Then, they formed into teams with that included entrepreneurs, designers and web and app developers. Team members spent much of the weekend grinding away on laptops and engaging in serious conversations while keeping themselves stimulated with sodas and energy drinks. Then, they unveiled their business concepts on Sunday before a panel of judges with entrepreneurial experience.
Andy Van Valer, a judge in the competition and managing partner of Slingshot SV, said that several of the proposals could be successful with a bit of fine tuning.
"The thing about a presentation like this is the learning experience," he said, noting that it gives aspiring entrepreneurs the opportunity to present their ideas.
Necessity is the mother of invention
Perhaps not surprisingly for a college event, several projects incorporated fast food themes. That included the winning entry, Undō Sushi, as well as an artisan Mexican food catering company known as La Nutria.
Sarah Anderson said she became inspired to create her third-place winning idea for a university-focused tea vending machine after a fateful night when she ordered a drink from a machine at her former community college.
"I ordered a mocha, and it was the worst thing I had ever had," Anderson said. "It was like warm powder with milky water."
Several other participants also created concepts based on past personal experiences. Those included CSU Monterey Bay students Emily Sedillo and Jami Murray, who created a paid designated driver service called Sober Chauffer.
Sedillo said she had gotten in arguments with several friends who admitted they had been under the influence while getting behind the wheel. Many of them said they did not want to take a taxi because they did not want to leave their cars unattended. Sober Chauffer's response is to offer two drivers: one who will take a customer home and the other who will transport the customer's car to that person's residence. The group's goal was not only to turn a profit, but to prevent injuries and save lives.
"We really feel passionate about this idea, and we really feel strongly about this cause," Murray said.
Santa Cruz resident Pete Biggam, who previously worked for California Certified Organic Farmers, also used past experience as his guide. He said he pondered his concept of an app to help organic growers manage their farms for a year and a half before this weekend's event. His proposal, Organized Organics, ended up receiving the Crowd Favorite award.
"I came here and got a really, really good response," Biggam said. "A lot of people said, 'I hope this thing goes, because organic is really important to me.'"
Attendees received personal help throughout the event from various coaches with expertise in a range of areas including legal help, computer science and business.
Many of those coaches said they gained much from the event as well. Those included entrepreneur venture capitalist G Stearns, who said he comes to Startup Weekend events for the "psychic income."
"And it keeps my pencil sharp," Stearns added. "If you can't help the young entrepreneurs, it makes you dull."
Most participants, including Anderson of tea vending business Uni-Tea, said they hope to continue working on their concepts after the event. In the meantime, they said they gained much from having the experience of starting their own companies.
"I learned a lot more about business this weekend than I have in my entire life," Anderson said.
###
Jonathan Partridge is a freelance writer and online media strategist who loves to share stories about exciting happenings in Santa Cruz County. He can be reached at jonathanjpartridge@gmail.com.
Tagged CSUMB, Startup Weekend