Companies
Salinas Valley Ag Tech Summit promotes importance of workforce education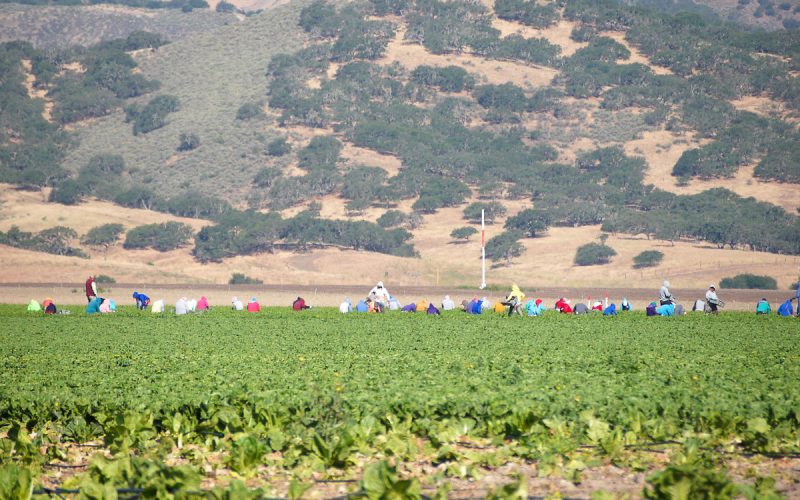 By Sean Roney
King City Rustler
April 27, 2021 — Salinas, CA
(Photo above: Agricultural workers harvest greens west of King City, clearing the fields of those late spring crops. Credit: Sean Roney)
A panel of experts discussed current challenges in agriculture, such as the future of the workforce and the role of education, during the eighth annual Salinas Valley Ag Tech Summit.
The two-day session spanned more than eight and a half hours of streaming, with this year's offerings being held virtually on March 18 and 19, 2021.
Keynote speaker Karen Ross, secretary of the California Department of Food and Agriculture, hosted a fireside chat with moderator Dennis Donohue, director of the Western Growers for Innovation and Technology.
While discussing the importance of science and technology in education, Raul Rodriguez, interim superintendent of Hartnell College, announced the community college's partnership with California State University Monterey Bay in having been awarded $300,000 for a two-year research grant to benefit ag science.
"What they're going to be working on are diseases that damage crops and how we can work with the soil to try to mitigate the effects of some of these diseases," Rodriguez said.
He noted the importance of adapting education to the changing needs of agriculture, adding that Hartnell's own commitment toward that mission includes internships and continuously growing its agtech program.
A new degree pathway has been created between Hartnell and CSUMB, the Agricultural Plant and Soil Sciences.
"Our ag students typically go to CalPoly, UC Davis, Fresno State," Rodriguez said. "Now with this partnership, this degree pathway with Cal State Monterey Bay, they won't have to go away if they want to study this area."
Continue reading here: https://kingcityrustler.com/salinas-valley-ag-tech-summit-promotes-importance-of-workforce-education/
###