Companies
Twenty-six Startup Challenge finalists compete on May 6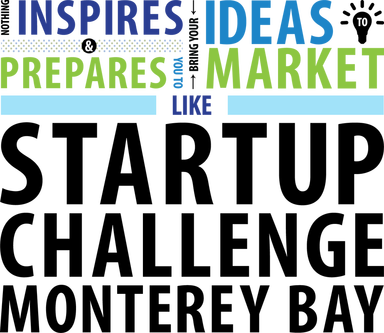 By Joan Weiner
CSUMB
April 27, 2016 — Seaside, CA
A helping hand for budding entrepreneurs
New businesses compete for cash at Startup Challenge
Twenty-six finalists from this year's Startup Challenge competition will compete on May 6 for the grand prizes in each of three divisions. The startup companies, hailing from Monterey, San Benito and Santa Cruz counties, will exhibit their businesses beginning at 3 p.m. at the Joel and Dena Gambord Business & Information Technology Building on the CSU Monterey Bay campus.
Among the finalists are companies:
Developing a commercially viable electric vehicle fast charger
Creating an online platform designed to make learning computer hardware easy
Making gourmet Louisiana-style sweet potato pies
Using autonomous underwater vehicles to deliver marine data
Creating an online platform to guide medical marijuana patients to the ideal strains for their symptoms.
Approximately 90 entrepreneurs from the tri-county region applied for this year's Startup Challenge. The Challenge includes three divisions: Venture, for businesses intended to grow into large enterprises; Main Street, for small businesses; and Student, for high school through graduate school.
Twelve startups advanced in the Venture division; 10 in the Main Street division; and four in the Student division. The Venture division winner will receive $20,000 cash and $10,000 in legal and other services; $10,000 cash goes to the Main Street winner; and the student competition winner gets $1,500.
The public is invited to attend
These applicants presented their ideas to a panel of judges on April 1. From that group, 26 finalists were selected to expand their business idea and prepare a 10-minute presentation to a panel of judges in the morning on May 6. From these, the top three Venture finalists and the top two Main Street finalists will compete in the Otter Tank, a "Shark Tank-lite" pitch competition at 4 p.m. The public is invited to attend.
Startup Challenge Monterey Bay is now in its seventh year. All past winners in the Venture Division are still in business and have raised more than $500,000 in capital investments and all but one of the Main Street winners are still in business.
Startup Challenge Monterey Bay is supported by Cal State University Monterey Bay's Institute for Innovation and Economic Development. Major sponsors include the Fort Ord Reuse Authority (FORA), Northridge Mall, the Monterey County Weekly, the cities of Salinas, Pacific Grove, and Monterey, the CSUMB Small Business Development Center, and the U.S. Economic Development Administration.
For more information about the finalists visit http://www.thestartupchallenge.org/finalist-profiles-2016.html
For more information about past winners see http://www.thestartupchallenge.org/past-winners.html
For driving directions and a campus map, visit https://csumb.edu/maps
###
Tagged CSUMB, The Startup Challenge