Companies
Ocean Trackers Meet the Hackers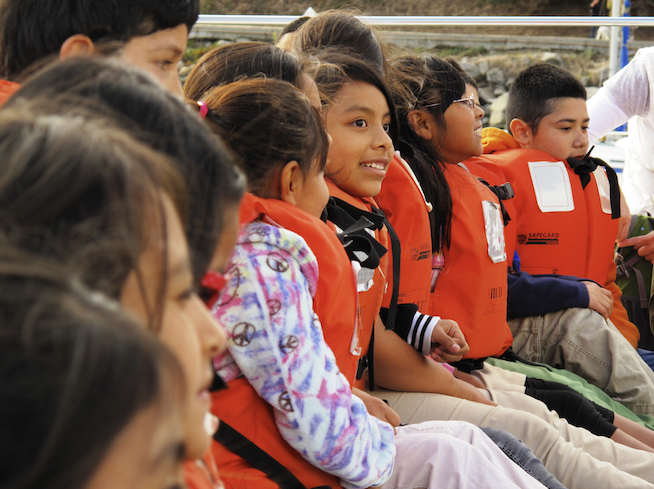 By Dan Haifley
Executive Director, O'Neill Sea Odyssey
Special to Santa Cruz Tech Beat
January 20, 2016 — Santa Cruz, CA
(Photo above: O'Neill Sea Odyssey students head out to sea for a science field trip in 2012. Contributed.)
O'Neill Sea Odyssey app from HACK UCSC 2015 sends data from Monterey Bay to the web
Last year I reported that O'Neill Sea Odyssey, the ocean-going science and environment non-profit that I run that was started by wetsuit innovator Jack O'Neill, was working with students from the HACK UCSC 2015 event. Our goal was to develop a unique application that would allow data we collect with students aboard the Team O'Neill catamaran to be sent directly to our website so that students could access it for later use in their on-going explorations in science and environmental stewardship.
About O'Neill Sea Odyssey
O'Neill Sea Odyssey (OSO) was founded in 1996 when a living classroom was created on a 65-foot catamaran sailing Monterey Bay where 4th – 6th grade students engage in hands-on lessons about the marine habitat, its inhabitants, as well as stewardship of the sea and watersheds that flow to it. Our program is conducted on the catamaran with follow-up lessons at the shore-side education center at the Santa Cruz Harbor. It's free of charge but classes design and perform a project to benefit their community, and each teacher and class receives ocean science curriculum for use in their own classroom.
The program includes three onboard learning stations: navigation, including compasses and triangulation; marine ecology, including the kelp forest, marine mammals, and human impacts on Monterey Bay; and marine biology, specifically examining and learning about plankton. These stations are complemented by three stations at an education center on land: navigation, including reading and plotting navigational charts; marine ecology, covering the water cycle, watersheds, and ocean pollution from land-based activities; and marine biology, where the plankton samples collected on the boat are examined further using microscopes.
OSO's program involves science learning with environmental outcomes. It's objectives are that 1) students will increase their awareness of and threats to watersheds and the ocean; 2) students are more likely to protect Monterey Bay and the ocean; and 3) students will advocate ocean and watershed stewardship to their families and friends.
OSO's website is also an online learning center which stores data collected by each class during their field trip. Up until last year, data had been recorded using a pencil and a paper data sheet clasped to a clipboard. Data had to be entered by hand back at the education center after the field trip was concluded, which was a time consuming, tedious process.
Ocean Trackers Meet the Hackers
In 2014, OSO purchased three iPads, one for each learning station: marine biology, navigation, and watershed and marine ecology. The next step, to develop an app to facilitate data entry from the iPads directly to OSO's database on its website, would be harder. So we turned to the programmers at HACK UCSC 2015.
Laura Barnes, O'Neill Sea Odyssey's Education Coordinator, and I attended the HACK UCSC 2015 event and pitched an idea for an app to allow elementary school students and their instructors to enter data from the Team O'Neill catamaran directly to the O'Neill Sea Odyssey website during their ocean-going science field trips.
The Plankton Guys
We connected with a team dubbed "The Plankton Guys": Alexander Henry, Christopher Hsiao, Brad Bernard and Arjun Gopisetti. They created an app that allows data to be entered in real time and ensures that it is online for the students when they get back to school. The data they record includes surface temperature, plankton species, latitude and longitude, depth, wind speed and other data points related to the OSO curriculum. The Plankton Guys worked with OSO staff, led by Laura Barnes, through May 2015 to streamline the app for easy use by our instructors and students.
While The Plankton Guys didn't win HACK UCSC's prize money, they did win a design contract with OSO; a superb addition to an undergraduate's resume. But the real winners are the OSO students who benefit from state of the art technology during 200 field trips per year aboard the O'Neill Catamaran. Donors who contributed to the $21,000 budget for the iPads and the app's development included the Santa Cruz Rotary Club, Omega Nu, Mark Malone, Dan Haifley, Laura Barnes, and the Santa Cruz County Fish and Game Advisory Commission.
How It's Worked
According to Applied Survey Research's evaluation analysis for O'Neill Sea Odyssey's school year ending July 1, 2015, 94.9% of teachers that enrolled their classes in the OSO field trip reported using the online learning center in their classroom activities, building on the data that their classes had collected and entered through the app developed by OSO and The Plankton Guys.
2015 was a testing phase for the app, which allowed OSO staff to make changes that streamlined the data entry process, worked out programming bugs, and made it more user-friendly for instructors and future student use. The project has reduced our paper use, saved time, and allowed for more time using the data for learning purposes and less time entering and managing it.
###
If you wish to republish this article, please follow our Terms of Use.
###
Tagged Hack UCSC, O'Neill Sea Odyssey