Featured
Sending data to the web from the waters of Monterey Bay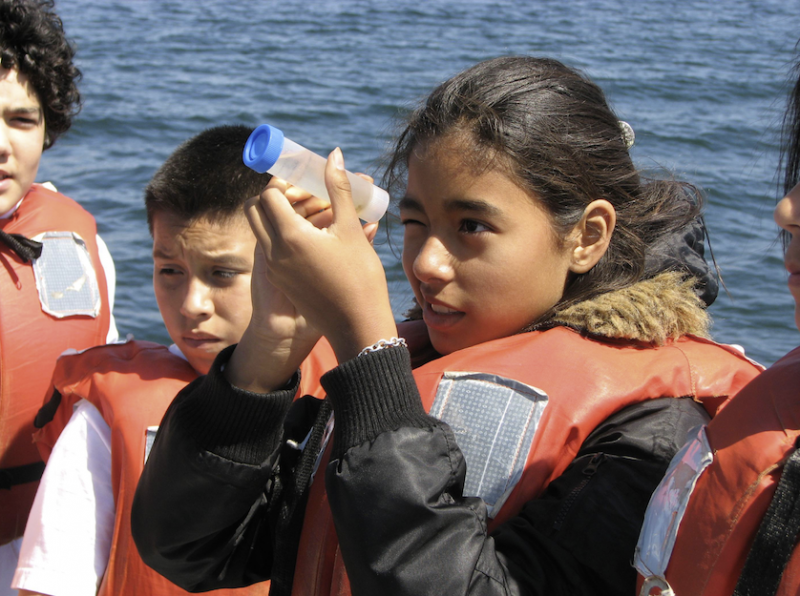 By Dan Haifley
Executive Director of O'Neill Sea Odyssey
February 6, 2015 — Santa Cruz, CA
(Above: Students from EA Hall Elementary school in Watsonville look over plankton samples during O'Neill Sea Odyssey's class. Photo contributed)
O'Neill Sea Odyssey teams up with Hack UCSC 2015 students
Thanks to four young coders from UC Santa Cruz, the world of ocean science, and environmental activism is about to be unveiled just a little more to more than 5,000 elementary school students per year who participate in O'Neill Sea Odyssey's (OSO) free ocean-going science and environment program.
The programmers are Alexander Henry, Chris Hsiao, Brad Bernard, and Arjun Gopisetty who collectively call themselves The Plankton Guys. They were participants in Hack UCSC 2015, where they heard pitches by me and OSO's education coordinator Laura Barnes asking for an app that would allow our students to collect and enter ocean data they could call their own.
Currently, OSO uses old fashioned clipboards and paper on the boat for data recording, which is done by the instructor.  The data reflects oceanographic conditions and biology data at that point in time. Each class of 30 students is divided into three groups for a 10:1 student to instructor ratio. For the navigation, ecology and marine biology lessons on the boat, we record data three times, one for each group of ten students.
What is OSO?
O'Neill Sea Odyssey (OSO) engages 4th – 6th grade youth with a hands-on science education field trip on a 65-foot catamaran on Monterey Bay and in a shore-side education center, in addition to ocean science curriculum provided for use in the classroom. It's free, and each class completes a community service project. OSO also funds bus transportation to and from our site for lower income schools.
O'Neill Sea Odyssey's mission is to provide a hands-on educational experience to encourage the protection and preservation of our living sea and communities.
The program achieves educational standards using ocean-based science and math concepts, while teaching youth about watersheds that flow to the sea and their responsibility to protect them. In 2004, OSO received the Governor's Environmental and Economic Leadership Award and in 2005 Senator Barbara Boxer's Environmental Champion award. In 2009 the Adam Webster Memorial Fund received the Community Spinners award for its work with special needs youth. In 2013, the Silicon Valley Business Journal bestowed its Community Impact Award. OSO's recent accomplishments can be found at www.oneillseaodyssey.org/blog. More than 75,000 youth have been served.
O'Neill Sea Odyssey's outcomes are that:
Students will increase their awareness of watersheds and the ocean they flow to and will take steps to protect them,
Students are more likely to protect watersheds and the ocean,
Students will advocate ocean and watershed stewardship to their families and friends. A recently completed study of our long-term impact found that 75% of students who participated in OSO 5-7 years before had retained knowledge about non-point source pollution, as well as stewardship values, taught in OSO's ecology curriculum.
Verbal, visual, kinesthetic, and auditory learning
OSO uses the hands-on learning method in in small groups which scaffolds vocabulary, increases participation by English learners, demonstrates academic subject matter in an engaging manner, and integrates academic subjects in an exciting learning environment.
Verbal, visual, kinesthetic, and auditory learners are all taught through this hands-on approach to science. OSO lessons introduce new vocabulary to both native English speakers and English learners. OSO has also translated scientific terms into Spanish and has them posted on cards at each station. Concurrent translations encourage students to gain vocabulary in Spanish as well. OSO is therefore memorable to English learners, enabling it to create new ambassadors of ocean stewardship and marine debris reduction behaviors.
The field trip and ecology lesson in particular emphasizes the impact that on-land, human activities have on the ocean environment, while the marine biology lesson provides vivid details on the marine food web to be protected and the navigation lesson provides a sense of place to be protected. The marine food web, supported by phytoplankton, supports the diverse flora and fauna protected by the Monterey Bay National Marine Sanctuary.
How Data Collection Works
Currently, the instructor records the data into our website after the class. Our current data collection and entry method is time consuming and does not engage the students. The data entry portal is difficult to navigate and use.
OSO purchased the iPads thanks to generous donors to enable our students to record and enter the data directly into our website, both at the same time, on the boat.  We want the students to discover, collect, and enter the data onto our website so their class can view it later. The data includes information such as water pH, wildlife counts, GPS coordinates, compass bearings, plankton species, and other information that we used to collect on clipboard and paper.
Rather than replicate our paper-based data collection sheet, the app The Plankton Guys are developing uses a graphic interface that makes data entry easier to do. It sends the data directly into the database on our website, through our existing data portal. But all the students will see is the cool app on the iPad. The goal is for data entry to be user friendly for the students, so they can concentrate on the significance and meaning of the data itself and not on how aggravating it is to enter it.
Dan Haifley is Executive Director of O'Neill Sea Odyssey. dhaifley@oneillseaodyssey.org; @danhaifley on Twitter.
###
Tagged Dan Haifley, O'Neill Sea Odyssey