Companies
HACK UCSC 2016 Brings Tech and Philanthropy Together Again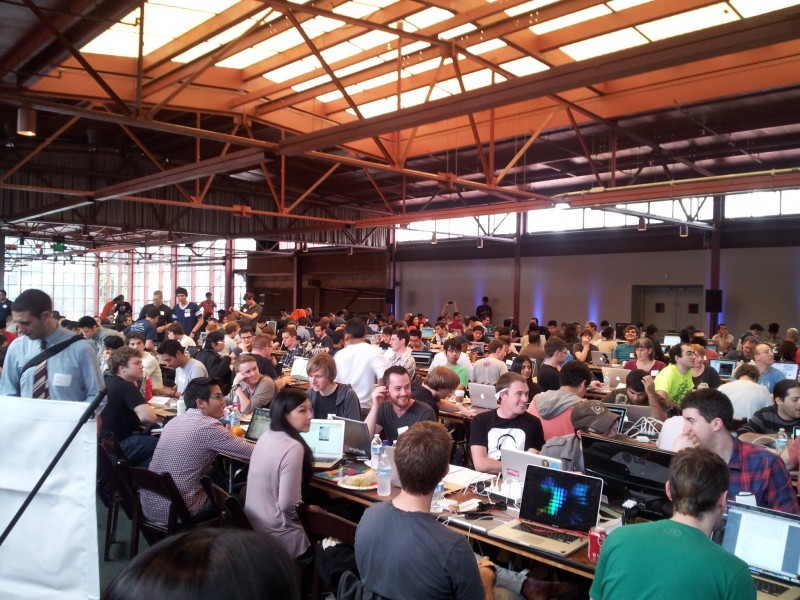 By Jonathan Partridge
Special to Santa Cruz Tech Beat
December 29, 2015 — Santa Cruz, CA
(Photo above: The room is abuzz at last year's Hack UCSC 2015. Contributed.)
$80K worth of prizes
Participation in UC Santa Cruz's annual hackathon grows by leaps and bounds each year, offering networking opportunities for young techies, $80,000 worth of prize money and a fun, challenging atmosphere.
Focus on solving social, agricultural or environmental issues
But there's another reason for social entrepreneurs to compete. For the second year in a row, participants in the Hack UCSC 2016 Tech Cares category have the opportunity to use their products to promote social good.
Competitors in the Tech Cares category during the January 29-31 event will create products with a focus on solving social, agricultural or environmental issues. Winners will not only get prizes but will also donate to the nonprofit of their choice with $4,000 in grant money provided by Community Foundation Santa Cruz County.
"Tech Cares shows there is significant interest in doing something for social good," Hack UCSC co-founder Mark Adams said. "It's kind of like it's flipping the script on how people view the tech world."
In 2015, the year the category was first introduced, 30 – 40 % of the 450 entrants competed in Tech Cares. Organizers realized during UCSC's first hackathon in 2014 that not everyone was interested in building a business, Adams explained. When Community Foundation Santa Cruz County approached Hack organizer Doug Erickson to suggest a partnership, the pieces fit. The Foundation offered up sponsorship for a new category to promote innovation in social entrepreneurship. The Tech Cares category was born.
Tech Cares, Innovation, Labor Tech
The anticipated 500 to 600 competitors in 2016 will be able to compete in Tech Cares, Innovation, or Labor Tech categories.
In 2015, Tech Cares entrants came up with a range of innovative ideas, including products and apps that helped with medical and environmental concerns.
RECYCLOPS took first place with an app that allows users to scan the bar code of a product to determine if it contained recyclable parts. The team split its grant between the Watsonville Environmental Science Workshop and Watsonville Tecnología-Educación-Comunidad.
Team Jeanne took second place with an app designed for the Pebble Watch that monitors and manages medicine and activity regimens online. Its grant went to the patients' rights advocate program Advocacy, Inc.
Eron Lake took third place and the hackathon's People's Choice Award with an educational biology game that teaches students about the function of cells.
Tech Cares participants said their involvement was valuable, even if most of their ideas will never make it to market. Derek Donahue, a 2015 UC Santa Cruz graduate, who works for Novato-based 2K Games, said being with RECYCLOPS last year encouraged him to think about the challenge of getting people to think about sustainability when purchasing products.
"I think events like this can help put technically focused people together to think about problems that aren't always on the forefront of our minds," Donahue said.
Similarly, Team Jeanne member and 2015 UCSC graduate Alex Rowe, said his work on the Pebble Watch app had a personal motivation. Team Jeanne was named after his group's mentor's elderly aunt, who died after suffering from neglect while staying at a care center. Rowe said he had a similar experience with his grandfather a couple of years earlier, so he saw the value of the Pebble Watch app. "I could relate to that," Rowe said.
Hack UCSC's addition of the Tech Cares category comes as more hackathons nationwide are including elements that promote social good. This includes the ATX Hack for Change at the annual SXSW Festival in Austin, Texas and the CloudCamp Social Good Hackathon in San Francisco.
Janneke Lang, a 2011 UCSC graduate, served as a catalyst for starting the social good category at Hack UCSC. She worked with the Community Foundation to set the judging criteria for Tech Cares and worked with the nonprofits that presented their app ideas at the event.
"The level of interest in the Tech Cares category surprised many," Lang said. "It showed that UCSC students are not just interested in creating apps that move a robot's arms, but also help young students develop their math skills or prevent the elderly from hurting themselves with a wristwatch that can tell if the wearer has fallen."
Lang is now the president of The Inspiring Enterprise, a newly established Santa Cruz-based nonprofit that accelerates social venture startups. She said, she was already thinking of starting the nonprofit incubator when she became involved with the hackathon, so her involvement with Tech Cares seemed like the perfect fit.
Hack UCSC serves another purpose as well, said Lance Linares, CEO of the Community Foundation. "It builds bridges between nonprofits and the tech community."
"I don't have to tell you that o­­­ur world is rapidly changing," Linares said. "Today, no one entity can do it alone, whether it's business, technology, education, government or philanthropy. It's only by joining forces and being willing to disrupt the traditional ways of working will we be successful," he added. "Hack UCSC and Tech Cares is a real way to bring new minds and new ideas together for social go­­­­od," Linares said.
###