Companies
Calliope Waterworks Makes a Splash at CES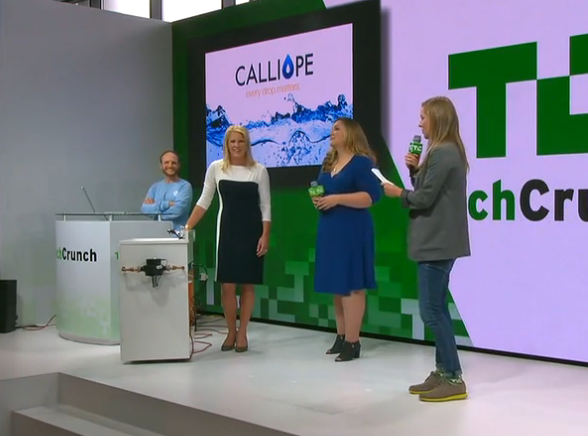 By Sara Isenberg
Founder, Publisher, Editor-in-Chief, Santa Cruz Tech Beat
January 7, 2016 — Santa Cruz, CA
(Photo above: Calliope Waterworks' CMO, Hilary Bryant, and cofounder, Keri Waters, prepare to present at the Hardware Battlefield yesterday at CES in Las Vegas. Source: TechCrunch video)
Calliope Waterworks is making a big splash at CES in Las Vegas this week.
If you're not already familiar with this Santa Cruz-based startup whose focus is a single device whole-home water meter, you might want to start paying attention.
Calliope's new videos
For a bit of background, you can learn more by viewing Calliope's most recent videos. Watch this new one (also below) to learn about the product directly from cofounders Keri Waters and Joel Boutros, and CMO Hilary Bryant. Learn more about the actual meter in another new video.
TechCrunch at CES
Yesterday, TechCrunch published a profile article of Calliope from CES. Here's a snip:
Calliope's aptly-named co-founder and CEO Keri Waters told me that the project, grown out of her concern for the water crisis in California, has the potential to help empower urban water users to see how exactly their water is being used in real time while also offering up-to-the-minute alerts regarding leaks or unusual use.

This is a particularly advantageous time for Calliope to launch. Water rates are increasing pretty quickly compared to other utilities. A key to Calliope Waterworks addressing this problem has been thoroughly understanding the regulatory climate surrounding water rights and urban water usage. The company has a uniquely qualified Chief Marketing Officer to help assist them in this capacity, Hillary Bryant, the former mayor of Santa Cruz, California.
Hardware Battlefield at CES
Ta da! Calliope participated in the TechCrunch CES Hardware Battlefield yesterday. Watch this video of Keri and Hilary's Hardware Battlefield presentation.

FINALS are tomorrow
Hardware Battlefield final take place tomorrow, January 8, and if you're in Las Vegas, you can visit the broadcast booth. From TechCrunch:
"We'll be running three straight days of exciting presentations live from the Sands Lobby. If you're in Las Vegas, visit us at our broadcast booth (you don't need a show pass to stop by). Battlefield pitches are at 11 a.m. and 2 p.m. on Wednesday and Thursday. The finals, where our top startups compete for $50,000 and the Metal Man Trophy, take place at 2 p.m. on Friday. Winners will be announced Friday at 4 p.m."
[January 8 update: Unfortunately, Calliope didn't make the finals.]
###
If you wish to republish this article, please follow our Terms of Use.
###
Tagged Calliope Waterworks