Companies
Watershed panel: "Santa Cruz has arrived!"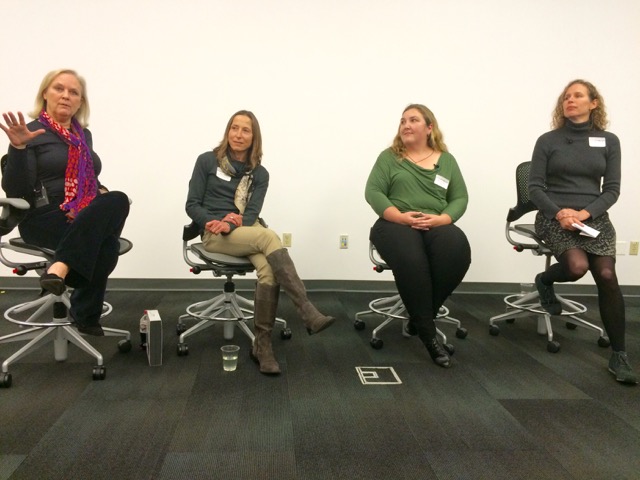 By Jondi Gumz
Santa Cruz Sentinel
January 29, 2016 — Santa Cruz, CA
(Photo above: Panelists Marilyn Mersereau, CMO at Plantronics; Ann Pace, Director of Sponsored Programs and Finance at UCSC Genomics Institute; Keri Waters, CEO at Calliope Waterworks; Claire Schneeberger, Founder and Chief Innovation Officer at Monarch Media, share their stories at the "Watershed" event held at Plantronics on January 27. Credit: Hilary Bryant)
Panelists from Monarch Media, Calliope Waterworks, Genomics Institute, and Plantronics share insights
Men dominate the tech world but when former mayor turned startup marketing officer Hilary Bryant organized a technology showcase, all of the speakers were female, including the Silicon Valley emcee.
The event was hosted by Plantronics, where Marilyn Mersereau, chief marketing officer, showed off new packaging "like a piece of lingerie" for its popular headsets, tapping the surf vibe with the phrase "Designed in Santa Cruz, California."
Claire Schneeberger came from online learning company Monarch Media where she is founder and chief innovation officer. The company made Inc. magazine's 2015 fast-growing list on revenue of $3.4 million, ranking 52nd among education firms.
Ann Pace brings in grant funds and oversees a $22 million portfolio at the UC Santa Cruz Genomics Institute, where researchers partnered with cancer doctors are looking at thousands of DNA sequences from tumors to find clues to treatment alternatives for children for whom the standard therapy does not work.
Keri Waters, Bryant's boss at Calliope Waterworks, is a San Francisco accelerator program as she pilots technology to monitor household water use and identify leaks.
"You guys are rocking it," said Beth Blecherman, founder of the Techmamas.com blog, frequent Santa Cruz vacationer, and emcee for the "Watershed" panel discussion Wednesday night. "Santa Cruz tech has arrived."
Said Bryant, "There's some very cool stuff happening in town."
About 75 people attended, about half female, boasting a much higher percentage than at the monthly Santa Cruz New Tech MeetUp.
Continue reading article here: http://www.santacruzsentinel.com/business/20160128/techmama-beth-blecherman-santa-cruz-tech-has-arrived
###
Tagged Calliope Waterworks, Genomics Institute, Monarch Media, Plantronics