Featured
Happy 1st Birthday, CruzCal!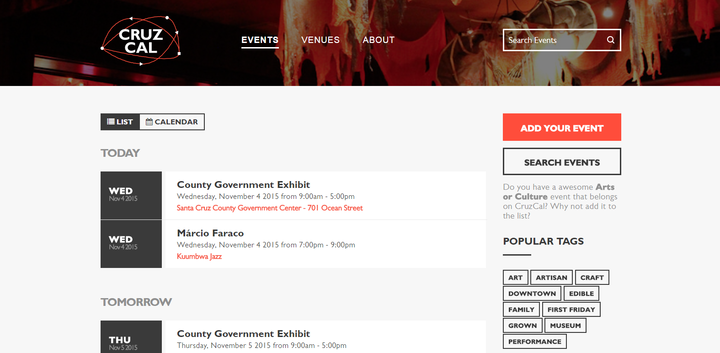 By Rebecca Unitt
City of Santa Cruz Economic Development
November 5, 2015 — Santa Cruz, CA
[Editor's note: A year ago, Santa Cruz Tech Beat announced the launch of CruzCal with "Community calendar launches
with help from local agencies," a software design & development collaboration between the City, Modern Tribe, Cruzio, and Design by Cosmic. The following article was originally published on EDO's choosesantacruz.org.]
CruzCal.org the arts and culture calendar for Santa Cruz launched just about a year ago and we are excited to celebrate the success of this great resource for the community! CruzCal is the result of nearly two years of effort amongst Arts Council Santa Cruz County, City of Santa Cruz Arts Commission, and the City of Santa Cruz Economic Development Office. It serves as the Santa Cruz community's convenient and open calendar resource for all arts and cultural events. Now event organizers can post their event information in one place while audiences, media, curated websites, and bloggers can easily import event information.
We chatted with, Beth Ragel, a member of our team who is the Arts Program Manager and oversees the collaborative effort to support CruzCal. Beth shared with us the success of CruzCal over the last year and some exciting new developments in the Santa Cruz public art world.
CruzCal launched just about a year ago, what has been the impact of the calendar so far?
We have worked through Arts Council Santa Cruz County to reach the local non-profits arts community, so they know to post events there as a collaborative effort. This benefits those who want to make sure they don't schedule events in competition with other similar arts organizations. For example, theater groups didn't want to schedule events at the same time as other theater groups.
Continue reading article here: http://choosesantacruz.com/journal/2015/happy-1st-birthday-cruzcal
###