Companies
Community TV Launches "Santa Cruz Currents"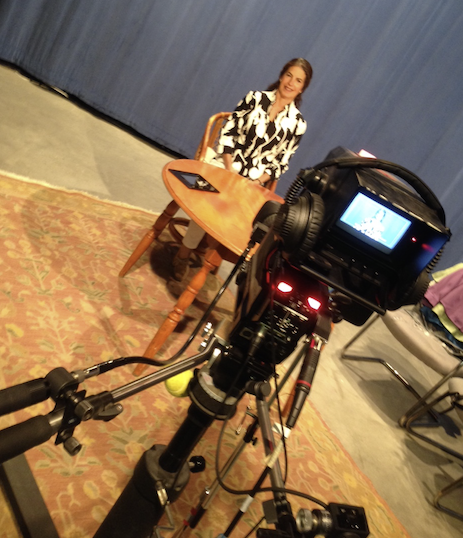 By Keith Gudger
Board Chair, Community Television of Santa Cruz County
Special to Santa Cruz Tech Beat
(Photo above: Sara Isenberg, Founder and Publisher of Santa Cruz Tech Beat, records a segment at the studios of Community Television (CTV) for the new "Santa Cruz Currents" program. Contributed)
September 19, 2015 — Santa Cruz, CA
Lights, Camera, Action! CTV taps Santa Cruz Tech Beat for new "Science and Technology" segments
Last Friday, Sara Isenberg of Santa Cruz Tech Beat stopped by the studios at Community Television (CTV) to record two "Science and Technology News" segments. The Cosmo Factory was on hand for hair and makeup, the teleprompter was loaded with the script, and a simple studio with a blue screen became a professional news room.
Santa Cruz Currents on CTV channels 27 and 73
Isenberg recorded the segments for the upcoming "Santa Cruz Currents" news program. This new program, created and staffed by CTV volunteers, begins airing Mondays at 6:00 PM and Wednesdays at 6:30 PM on CTV channels 27 and 73, and streaming on CTV's website. You can view the two recent "Science and Technology" segments just below.
The "Science and Technology" segments cover topics of interest from Santa Cruz Tech Beat. Other parts of the "Currents" program include in depth interviews, segments filmed in the field, a local video roundup and a Santa Cruz County community calendar.
Santa Cruz Tech Beat News, Volume 1:
Santa Cruz Tech Beat News, Volume 2:
Dedicated volunteers at CTV
With the change in funding as a result of the State law known as "DIVCA," the volunteers at CTV have taken over many tasks formerly handled by staff. The CTV Volunteer Advisory Committee is creating new programming, such as the "Non-Profit Spotlight" and this new news program. These dedicated volunteers are keeping the mission of CTV alive with fresh, exciting and well produced programming.
More about CTV
For more information about the professional services CTV offers, call 831-425-8848 ext. 21 or go to communitytv.org. If you're interested in CTV's public access, visit sccurrents.org to sign up for an orientation or call 831-425-8848 ext. 33.
See you on TV!
###
If you wish to republish this article, please follow our Terms of Use.
###