Companies
CTV / Satellite Hosts 360 Degree (Immersive) Video Meetup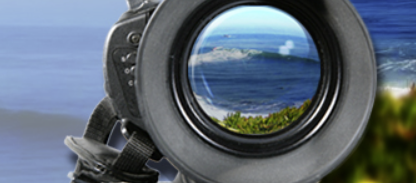 By Keith Gudger
Community Television of Santa Cruz County (CTV)
January 11, 2017 — Santa Cruz, CA
Join us for a meetup about 360 Video, from capture through editing and viewing in Virtual Reality (VR). We'll have a presentation from VR expert Joe Goldin of Impact Media about the state of the art. Participants can get their hands on our GoPro Omni 6 camera 360 rig, the HTC Vive VR and 360 video editing with Kolor's Autopano Video software.
In 360 (or immersive) video cameras record views in every direction at the same time using an omnidirectional camera or a collection of cameras. During playback the viewer has control of the viewing direction, a form of virtual reality.
Also available to try out are our Professional Field equipment including:
Sony's PXW-FS7 with Sony ALC-SH135 28-135 F4 lens
Sachtler pro tripods
Pro shotgun microphones (such as the Sennheiser MK416 with Rygote Super-shield wind kit)
Sound Devices 302 Portable 3 Channel Field Mixer Kit
The Blackmagic ATEM Production Studio 4k Field Kit
and the latest in pro LED field lighting
Whether your interest is 360 or standard video we'll have the latest technology on hand to try out.
Satellite Santa Cruz / CTV, 325 Soquel Ave., Santa Cruz (next to the Hindquarter right off of Ocean).
Thursday January 19, 2017 at 6:00 PM (presentation starts at 6:30)
RSVP here.
Joe Goldin
Joe Goldin is a VR/AR Technologist with The Impact Media Group. He leads the VR/AR department and does research and development in emerging technologies. He films, stitches, and edits VR content and provides technical support. Impact Creative helps businesses and agencies navigate the new frontier of experience-based technology and produces commercials, virtual reality, social media, retail displays, and trade show exhibits.
Satellite Santa Cruz/CTV:
Satellite Coworking and Digital Media Studio is joint venture between Satellite Flexible Workspace and Community Television of Santa Cruz County (CTV).
CTV's mission is to foster community dialogue and individual self-expression through television, the internet, and other electronic media.
Contact:
831-531-2300
info@communitytv.org
###
Tagged Community Television of Santa Cruz County (CTV), Satellite Media Center