Companies
Everything You Need to Know About the Drones, Data X Conference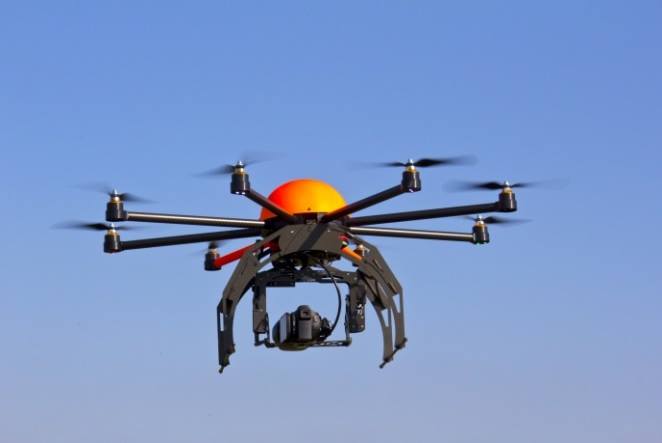 By Karen Kefauver
Special to Santa Cruz Tech Beat
April 23, 2015 — Santa Cruz, CA
The buzz about Santa Cruz's first-ever Drones, Data X Conference is growing even louder as leaders from the world's top companies plan to participate in the conference held April 30 through May 3 in downtown Santa Cruz at Kaiser Permanente Arena.
Event organizers and Santa Cruz residents Philip McNamara and Doug Erickson estimate the conference may draw up to 1,000 international participants.
Brains and Beauty
What makes the conference attractive? Well, it's in Santa Cruz, for starters, a growing hub of tech companies and a coastal city with both stunning brains and beauty. And add the conference's unique blend of outdoor and indoor drone demos, keynote speakers, dozens of vendors at the expo and even guided opportunities to mountain bike, kite surf and more (part of the VIP Weekend) and it's a landmark event.
"Many big household names will come here and see what a great place Santa Cruz is. We're also hoping they'll have some fun biking, hiking and surfing here," said McNamara, 40, a native of Ireland who moved here five years ago. He's also an accomplished athlete: Philip represented Ireland three times in the World Mountain Bike Championships. "I think there are a lot of people from Santa Cruz who would really love to work here, and not go over the hill every day. We're helping exciting tech companies see the benefits of Santa Cruz and that could mean more local jobs for local people."
Shaping Our Future
McNamara cites three ways drones could positively impact businesses and how they could shape our future:
Delivery of small goods: Imagine a drone bringing you a life vest if you got into trouble at sea. Or a drone delivering a defibrillator to someone suffering from a heart attack. Or drones dropping off an EpiPen to someone who has an allergic to a bee sting.
Aerial photography (reducing the need for expensive helicopters).
Agriculture: Using drones to figure out how productive land is and what's happening in a particular area with water/soil issues.
What excites McNamara most about drone technology?
"I think the biggest thing is personal transportation. I can foresee a future where we don't have to rely on cars anymore to get from Santa Cruz to San Francisco. We'll just rent "Airtime" and a drone will take us where we want to go. No more traffic jams, traffic lights, car accidents, bridge improvements, potholes or people texting and driving. It's going to take a while (10 to 20 years) but all the technology that is going into drones today will feed into personal aircraft tomorrow."
Both McNamara and Erickson, the founder of the influential Santa Cruz New Tech Meetup, acknowledge that concerns about drones' negative impacts (noise, visual pollution, privacy) are legitimate. But they are hopeful that necessary regulations and more advanced technology will help mitigate those issues.
Certainly, conference discussions will include some of the challenges as well as the benefits related to drone technology and will be addressed by experts in the field.
Here's a quick glimpse of three of Silicon Valley's Who's Who coming to Santa Cruz to explore the conference's central topics of unmanned aerial vehicles (UAVs), commonly known as drones, robotics and data capture:
Facebook's Andy Cox, the chief engineer leading the development of the company's drones, is a featured speaker. Cox has set world records for high-altitude, long-endurance (HALE) drones, a key tool in Facebook's plan to deliver continuous internet access in built-up areas of the developing world.
Amazon Prime Air is providing conference sponsorship. According to Amazon's website, "Prime Air is a future delivery system from Amazon designed to safely get packages into customers' hands in 30 minutes or less using small unmanned aerial vehicles."
Google X employees, who work at the semi-secret facility run by Google, will be in attendance. Google X is dedicated to making major technological advancements.
In addition, representatives from NASA, Federal Aviation Administration (FAA), Qualcomm, UPS and GoPro are slated to participate.
So you aren't a drone specialist or know much about aviation? That's okay, according to Doug Erickson, conference co-organizer, who made it clear the conference is not just for geeks.
"We deliberately and carefully selected a broad range of speakers to talk to the consumer market," said Erickson.  "We believe there will be something of interest for everyone."
Details
What: Drones, Data X Conference
When: May 1-3 (Friday-Sunday), also Thursday, April 30, 4-7 p.m., Drone Expo/Demo
Where: Kaiser Permanente Arena, 140 Front St, Santa Cruz, CA 95060, United States
To volunteer, fill out the application form ASAP
Tickets
General Tickets: $22-$560
VIP Weekend Tickets are available via application  (This option includes choices of mountain biking, road biking, trail running, surfing, kitesurfing, survival skills, drone flying and CEO dinners and special events.)
Discounts available for local businesses upon request – email suzanne@nua.io for more details.
Social Media
Local Conference Media Coverage:
###
Tagged Drones