Companies
Startups Breathe New Life into "Old Borland" Building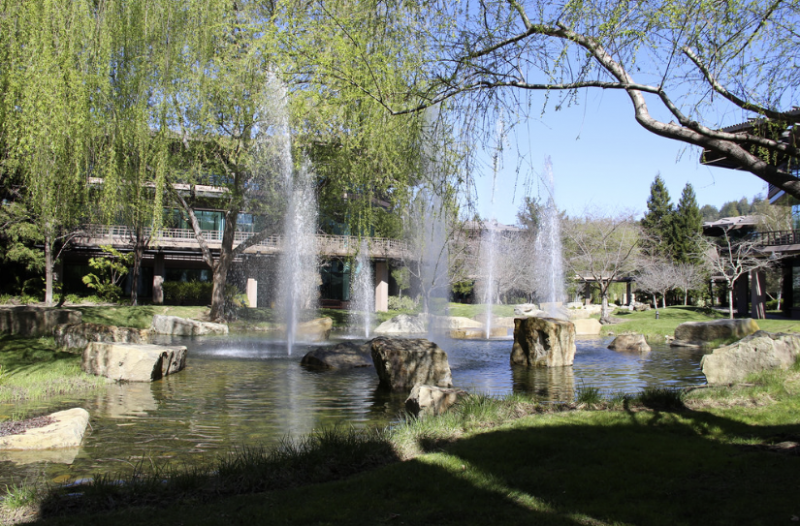 By Erica Zeidenberg
Hot Tomato Marketing
(Photos: contributed)
With asking prices for rents in Silicon Valley and San Francisco around $60+ a square foot, an opportunity is near by with rents that are a puny $2 a square foot
As commercial office space reaches saturation and commands record prices in San Francisco and Silicon Valley, one fast-growing startup is stretching out in a suite within a lush campus replete with zen gardens, an indoor basketball court and an Olympic-size swimming pool. But PayStand CEO Jeremy Almond isn't being cavalier with his investors' money—their office space comes at 50% of the cost of a similar space in the congested corridor just to the north of their new location in Scotts Valley.
Like summer camp for grown ups with tech roots
The 24 acre campus was built in 1993 as the headquarters for Borland, one of serial entrepreneur Philippe Kahn's early software ventures, at a cost of $120 million. Kahn chose award-winning architect Kevin Roche to realize his vision of a peaceful, park-like campus with Japanese influences and sprawling gardens that blend into the surrounding redwood forest. When Borland vacated in 2007, the complex went unoccupied for 7 years, until Chinese investor Hong Bo bought the property in 2014 for only $12 million.
A kind of self-organizing incubator
Now dubbed the "Enterprise Technology Centre," the owners are leasing turnkey office spaces to multiple tenants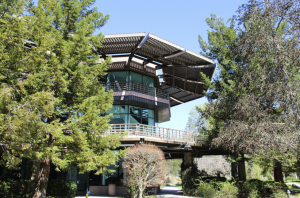 at $2 per square foot, which is far below average for the region. It didn't take long for startups to take notice: Intuvo, a company with a CRM solution for mortgage companies, was one of the first to move in, followed by several other companies still in stealth mode. The result is a kind of self-organizing incubator, where startups can leverage the Centre's convenient location just off Highway 17 and high-end amenities to recruit engineers and executives who might otherwise be reluctant join an early-stage company.
Less than a year after their product launch, PayStand had outgrown their duplex space in Santa Cruz' Old Sash Mill complex.
"Our engineers were crammed around a kitchen table, there were chickens clucking out back, and new hires were competing for space on the two-seater couch in our entryway," recalls cofounder & CEO Jeremy Almond. "We're a B2B software company that's disrupting the payments industry, and now we have professional offices that reflect our big vision."
Still only a fifteen-minute drive to the ocean, PayStand was able to retain their founding team from Santa Cruz, but also successfully recruit talent away from big-name companies in Silicon Valley. "The best part is, I don't have to worry about the logistics of expanding as we grow—there are more than 300,000 available square feet in the complex and we're already planning a move upstairs to a bigger space."
Almond also credits the move with reenergizing his team, who have been working long hours making sure their early customers are successful with PayStand. "Our technology processes payments on behalf of businesses, so it's mission-critical, and there's a substantial support component as well. I think it's great that we can take a break and go for a swim or a sit by a fountain for a while to reduce stress and remind each other why we're doing what we're doing."
###
Tagged Commercial Real Estate, Enterprise Technology Centre, PayStand