Companies
PayStand launches online payment service for bitcoin, credit cards, and e-checks
by Sara Isenberg
Publisher, Santa Cruz Tech Beat
$1 million in seed funding from Cervin Ventures, Serra Ventures, Central Coast Angels, and TiE LaunchPad.
PayStand, a SantaCruz based startup, has launched from its private beta selling its payment processing services for bitcoin, e-checks, and credit cards to websites in the US.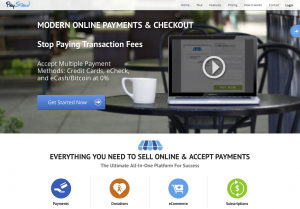 "PayStand helps you, small businesses, artists, musicians, and causes alike succeed by giving you the tools to thrive in an online world. Your PayStand is everything you need to sell online and take payments. It's so easy you'll actually get excited as you follow your dreams and ideas. Now that PayStand has leveled the playing field to be able to succeed online, you can sell products, offer digital items, take payments, and accept donations all from one place – as easy as making a post online. And now from one place, you can sell across the web, all your social platforms, your website, and your free PayStand page." — Josh Wilbur, Director of Marketing, PayStand
As part of its launch from beta, the company also said it had raised $1 million in seed financing from investors, including Cervin Ventures, Serra Ventures, Central Coast Angels, and TiE LaunchPad.
"Essentially it solves some of the card network problems," said Jeremy Almond, PayStand's chief executive. "We don't think the card networks go away…  [but] not all transactions need to go through the card networks. This gives merchants an easy way to take credit card processing and create a cash like system which also takes digital currencies."
PayStand Explainer Video from PayStand on Vimeo.
Sources:
###
Sara Isenberg publishes Santa Cruz Tech Beat for the benefit of the extended business and technology community. When she is not volunteering her time for the tech scene, Sara makes her living by managing software projects, web strategy planning, and providing development team services (including account management, vendor management, strategic partner management, beta project management, referrals to qualified technical team members, and more). Please visit her website: Sara Isenberg Web Consulting & Project Management, or contact Sara by email if you have any project management, account management, or Development Team leadership or service needs.
Tagged Central Coast Angels, PayStand