Companies
MakersFactory Partners with Distributor for Game-Based Learning Cube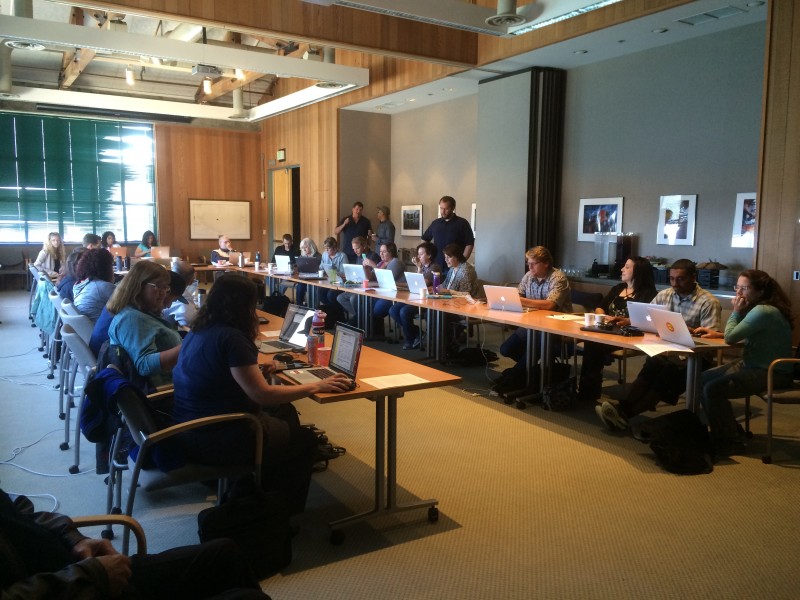 April 10, 2015 — Santa Cruz, CA
(Above: Teacher's training session on the GBL Cube Classroom Game Server held at the Monterey Bay Aquarium for Pajaro Valley Unified School District. Photo: contributed.)
[Editor's note: Santa Cruz Tech Beat published a related article about this game-based learning cube, MakersFactory launches GBL Cube for turn-key game-based learning, October 16, 2014. Previously located in the Cruzio building, Makersfactory partnered with Cabrillo College and moved to campus, December 30, 2014.]
"MakersFactory had been offering classes and manufacturing services for years before Intel approached us with their portable, high-capacity server that could be used in the classroom to connect a room full of students to lessons, content and in our case, MinecraftEdu. We saw the opportunity and configured the Game-Based Learning Cube so it could act as a plug-and-play utility to deliver the robust curriculum we had already been using in our clubs. RGS stepped in for our distribution needs and now we're ready to ship around the world. Education is going through a revolution and we're proud to be a part of it." — Dave Britton, founder and CEO of MakersFactory,
RGS brings game-based learning to the classroom with new Classroom Game Server optimized for MinecraftEdu
RGS, a business unit of Avnet, Inc. this week introduced the RGS Classroom Game Server (CGS), a new high-performance digital learning system designed to enable school districts to affordably integrate game-based learning (GBL) applications into their digital lesson plans for grades K-12. The unit is optimized for MinecraftEdu from TeacherGaming LLC.
[Editor's note: MakersFactory originally manufactured this product and now licenses Avnet RGS to do all manufacturing and distribution.]
The portable server unit, which features a 4th generation Intel® CoreTM i5 processor and 60GB mSATA Solid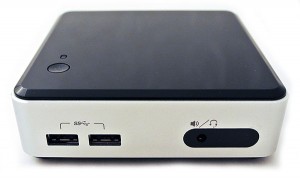 State Drive, is pre-configured with software, tools, lessons and a self-contained Wi-Fi network. Each unit can support up to 35 players concurrently, in a variety of network environments including existing Ethernet or Wi-Fi LAN. For classrooms with no network access, the server can broadcast its own LAN, reducing the load on the school network infrastructure. In addition, offline mode allows for play without any Internet connection.
RGS Classroom Game Server application includes teacher training, professional development and lesson plans developed by 3D learning solutions company MakersFactory, covering a range of subjects which meet Common Core and Next Generation Science Standards (NGSS).
Designed to provide teachers with effective lesson plan implementation in a hands-on enviroment
"Game-based learning is not only a terrific way to engage and motivate students, but it also enables educators to cultivate all of the creativity and problem-solving capabilities of students in a way that traditional learning methods never could," said Scott MacDonald, vice president and general manager, RGS. "The RGS Classroom Game Server is designed to provide teachers with an effective way to implement lesson plans and project-based learning activities in a fun, hands-on environment."
"MinecraftEdu has opened up endless possibilities for teachers to engage and inspire their students in the learning process," said Joel Levin, teacher and co-founder of TeacherGaming LLC. "Through collaboration and sharing of best practices, teachers are able to effectively integrate MinecraftEdu into their lesson plans across the complete spectrum of academic subjects."
"Collaborating with RGS has enabled the MakersFactory to continue product development around our game-based learning tools, expand our Ed Tech curriculum and proceed with exploring new ways to integrate 21st Century learning tools into the classroom," said Dave Britton, founder and president, MakersFactory. "Our mission is to make every teacher a hero, and we're thrilled to work with an educational solutions company that has the audience, competence and foresight that RGS has to help make that vision a reality."
RGS Classroom Game Server highlights:
Enhanced student engagement through multiplayer game-based interaction
Compatible with RGS Windows® Wi-Fi Learning Device
Fully integrated for out-of-the-box deployment, with comprehensive pre- and post-sales support
Professional development based on actual learning deployments
Flexible LAN configuration options
Student management tools to control where students can go, where they can build, and how they interact with the world and each other
Discounted client and server licenses available for schools to purchase directly from TeacherGaming. Licensees can access additional lesson plans through the MinecraftEdu World Library.
Read original article here: http://www.businesswire.com/news/home/20150406005022/en/RGS-Helps-Learning-Fun-Classroom-Game-Server#.VSiK4M626p0
###
Tagged Makersfactory