Companies
New STEAMSpace Partnership: MakersFactory & Campbell Union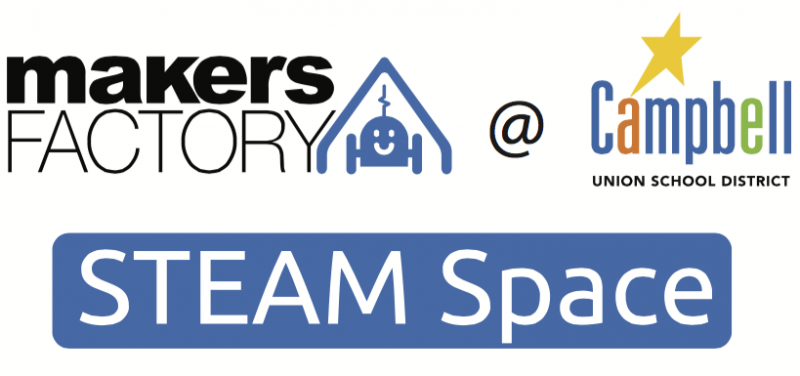 By Krissie Olson
MakersFactory EdTech Curriculum Developer & Communications
May 14, 2015 — Santa Cruz, CA
MakersFactory delivers in-class training to Monroe Middle School in San Jose
MakersFactory (MFY) and Campbell Union School District (CUSD) are pleased to announce the establishment of a new STEAMSpace at the Monroe Middle School campus in San Jose as part of an alliance partnership between the two entities.
Talks about the program began in January 2015, when CUSD came to MFY inquiring about cutting-edge, 21st century tools to bring to their campuses and seeking a partnership with the MakersFactory to deliver in-class training and teacher collaboration using STEAM curriculum for their school system. MakersFactory moved in to the STEAMSpace location on March 15, 2015 and began leading classes in 3D printing and Minecraft with 5-8th graders.
"We love this model. We're able to teach students how to use these high-tech tools to understand and engage with the concepts they're covering in class. The teachers are learning the tools right alongside the students so they can teach the same lesson in the future. And while we're doing 90% of the teaching now, we know that in a year from now, when the teachers are comfortable with the technology, we'll step back to assist while the teachers lead the lessons," says MakersFactory founder and CEO Dave Britton.
 
The first classes to be held in the new STEAMSpace have incorporated 3D modeling and Minecraft into the contents they're covering in class. A class of seventh graders studying pagodas as part of a history unit came in to build their structures in the game Minecraft, essentially creating a village of pagodas built by their classmates that they could then enter and explore. At lunchtime, the Tinker club comes in to use the space and learn the nuances of the 3D modeling tool Tinkercad. After-school clubs began in April, drawing students from both the Monroe Middle School campus as well as surrounding school sites, and cover a variety of topics. The MakersFactory will continue to operate during the summer hours, offering week long camps covering Game-Based Learning, 3D Modeling and Animation, Computer Programming, Video Game Design and Website Design on site at Monroe.
"We actively seek partnerships with professionals in STEM-related fields to co-teach with us and provide meaningful and engaging experiences for students." said Liz Wolfe, Assistant Superintendent of Instructional Services for Campbell Union School District. "When students see the relevance of what they are studying and how it can support their future, they become truly engaged in learning. The MakersFactory partnership is bringing that joy of learning to our students."
For more information visit www.makersfactory.com.
###
Tagged Makersfactory