Companies
Do you think veterans make great entrepreneurs? I do…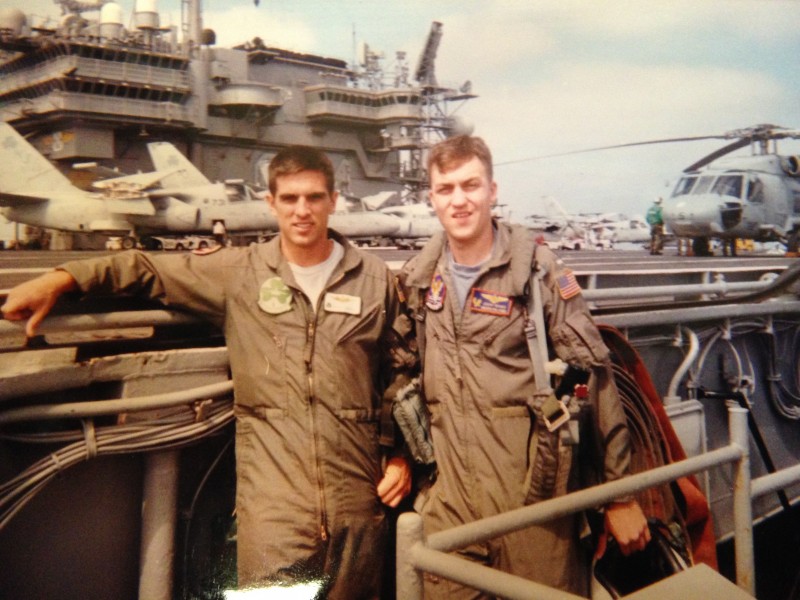 by Jeremy Neuner
NextSpace Founder & CEO
[photo above: Jeremy Neuner (right) prepares for flight operations aboard the aircraft carrier USS Constellation (CV-64) in 1999.]
Not stereotypes
They're not self-starters and only know how to follow orders. They're too regimented and by-the-book. They're not innovative and can't think out of the box. These are just a few of the stereotypes that I've heard about why veterans of the U.S. Armed Forces don't make good entrepreneurs.
As a veteran and an entrepreneur—I was a search-and-rescue helicopter pilot in the U.S. Navy and started NextSpace from scratch six years ago—I've dealt with most of those stereotypes. But the discipline, teamwork, and sense of mission accomplishment that veterans learn in the military are the same traits we admire in entrepreneurs, freelancers, and other members of the Naked Economy who are hustling to make a living and make a life on their own terms.
Uniquely prepared for entrepreneurship
At NextSpace, we're lucky enough to have dozens of veterans as part of our coworking community. I recently spent some time talking with a few of them and learning how serving our country in the Armed Forces has uniquely prepared them for entrepreneurship and for success in the new economy.
High-stakes environment is perfect training
Mary Flynn is a freelance writer and video producer and is a member at NextSpace Santa Cruz. Mary was a public affairs specialist in the Army National Guard and served a yearlong tour in Iraq in 2004 and another yearlong tour in Guantanamo Bay in 2008.  "Those were both election years, making it an interesting time to be in public affairs," she says with a smile.  That high-stakes environment was perfect training for her current gig.  "When you're a freelancer, you don't have a boss or a company structure keeping you on track. The army taught me to be disciplined and deadline-driven. That mindset is essential for freelancers and entrepreneurs."
Confidence in ability to do big things
Kenji Gjovig, a member at NextSpace Potrero Hill, found that the focus on mission accomplishment lead to a sense of confidence in his ability to do big things. Kenji just left a job at Walmart to start High Tide Consulting, a boutique e-commerce firm. Kenji also served as an engineer on a nuclear-powered submarine in the U.S. Navy. "The Navy gave me a lot of training, but when I finally arrived on the submarine, I was expected to do my job without a lot of hand-holding. On my second day, I had to start the nuclear reactor by myself. That was nerve-wracking and a little scary, but those kinds of experiences gave me a ton of confidence in my ability to just figure things out and get things done." Confidence in himself and his ability to make things happen were critical to Kenji launching High Tide.
Pulling together as a team
Part of getting things done is the ability to work with a wide variety people. Peter LaFond served in the U.S. Army and spent his time attached to a Special Operations group. Peter says, "In the Army, you serve alongside an incredibly diverse mixture of people from different backgrounds, different geographies, and different points of view. You have to learn how to overcome those differences and pull together as a team to get the job done." Peter now runs his own business and hosts a WordPress developers MeetUp at NextSpace San Jose. "Whether it's working with teammates with different skills or clients with competing agendas, learning to work with people on a common goal was an important part of my experience in the Army that directly applies to my business."
More likely to be freelancers
Mary, Kenji, and Peter are outstanding examples of why military veterans are 45% more likely to be freelancers, entrepreneurs, or self-employed than their non-veteran counterparts. According to the U.S. Small Business Administration, veterans are responsible for one out of ten small businesses in the United States, employing over six million workers and generating nearly $1.5 trillion in annual revenue. They not only defy some unfortunate stereotypes about veterans in business, they embody the very traits that we admire most in entrepreneurs. On behalf of everyone at NextSpace, I want to thank our veterans not only for their service and their sacrifices, but also for what they contribute to making our economies and our communities strong.
View original article here: http://nextspace.us/2014/11/10/do-veterans-make-good-entrepreneurs-i-think-so/
###
Tagged NextSpace