Featured
The robots of our future are coming—but they may not be what we think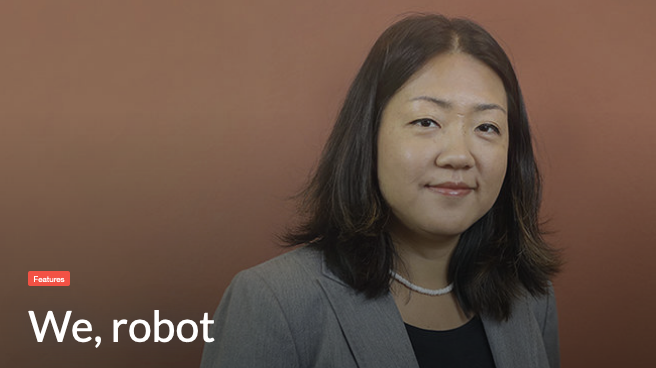 By Marcus Wu
UCSC Magazine
October 11, 2019 — Santa Cruz, CA
(Photo above: For researchers like Leila Takayama, who are at the forefront of the burgeoning field of human-robot interaction, robots must be designed with regular human users in mind. Credit: Carolyn Lagattuta)
The robots of the future will be integrated into our daily lives so much that they may escape notice. They could be "things you may not even consider to be robots," says Michael Wehner, assistant professor of electrical and computer engineering.
---
It's soft and fuzzy all over, with round, button eyes. Kai, as its latest incarnation is called, resembles a beakless baby owl with teddy-bear ears. It trembles with anxious heartbeat-like quivers, but when you stroke it, the beating slows down, coaxed into a purr. Kai is now calm.
Kai is a toy robot, developed by Sproutel, a company that based its design on a prototype from Katherine Isbister, a professor of computational media, and her collaborators and students. They conceived of the cute creature to help children calm down. Studies suggest that kids who don't adequately learn to temper emotions—like anxiety, stress, or frustration—are at a higher risk of later developing mental disorders, doing worse at school, displaying criminal behaviors, and having low personal well-being. But by stroking Kai, children can, in turn, learn to soothe themselves.
Other than vibrating and responding to a comforting touch, Kai doesn't do much else. It's simple, and probably not what most people would think of as a robot, a word that conjures images of anthropomorphized chunks of metal with human-like intellect, such as C-3PO, Terminator, Wall-E, or Rosie from The Jetsons.
Exciting (or frightening) as they are, those kinds of robots are unlikely to exist anytime soon, says Leila Takayama, an acting associate professor of computational media.
"Science fiction does set a lot of our expectations of what robots are and what they can and should do," she says. "But those are really far afield from what's possible today or even in the near future."
Instead, researchers like Takayama, Isbister, and others at UC Santa Cruz are ushering in a robotic future that's more in line with Kai: technology that's more realistic, modest, and—most importantly—useful.
"It's going to be more human centered," Takayama says. "That's why we make the technology: not for the sake of making a Rosie, but because we need help with something."
These robots will have specific tasks, and will be integrated into our daily lives so much that they may escape notice.
"We'll have smaller, friendlier robots," says Michael Wehner, an assistant professor of electrical and computer engineering, "and things you may not even consider to be robots."
Continue reading here: https://magazine.ucsc.edu/2019/10/we-robot/
###
Tagged Baskin School of Engineering, Robotics, UC Santa Cruz