Companies
Two Pore Guys Seek Assay For Platform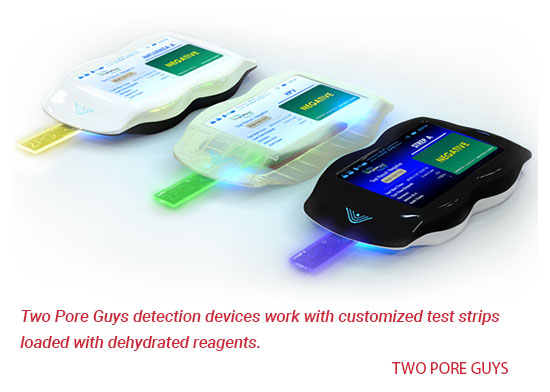 By Allison Proffitt
Diagnostics World
February 2, 2017 — Santa Cruz, CA
To start with, the technology Two Pore Guys is currently shopping uses only one pore. But the two-pore vision still drives the company, and serves as its namesake.
Sequence-through-pore is "really old tech", Dan Heller, CEO of Two Pore Guys (2PG) says. The trouble is DNA passes through silicon pores too quickly to read. Slowing it down to a useful rate is the challenge—groups like Oxford Nanopore use biological nanopores "as a ratchet" Heller says. 2PG has a different approach: opposing pores, both pulling the DNA toward them, but at different voltages or strengths.
"You are able to slow down DNA without reducing the voltage, which is what you need for the signal," Heller explains. "Now you have a really nice motor—an apparatus—by which you can control the motion of DNA, while not having to reduce the signal."
But first, Two Pore Guys is focusing on proteins. "It turns out… pulling these things in two directions isn't really necessary for detecting proteins and larger structures," Heller says. "Two-pore control will be used for sequencing, but we're not doing that right now."
Today, Two Pore Guys is gearing up to offer a single-pore detection system that can read anything from small molecules to much larger complexes. "What we have now is a platform and a business model where we approach all the companies that already have these diagnostic assays, and say, 'You can put it on our platform, and go to market at the point of care and not have to do any new R&D,'" Heller says.
Continue reading article here: http://www.diagnosticsworldnews.com/2017/1/24/two-pore-guys-seek-assay-for-platform.aspx
Tagged genomics, Two Pore Guys