Featured
Acclaimed game designer joins UC Santa Cruz faculty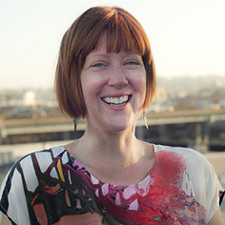 by Scott Rappaport
UC Santa Cruz
[Editor's note: In a related article, VentureBeat published UC Santa Cruz taps Journey co-creator Robin Hunicke to teach game development. For more see Wikipedia.]
Award-winning game designer and producer Robin Hunicke will join the UC Santa Cruz faculty in January as Associate Professor of Art & Game Design
A well-known figure in the games industry, Hunicke will help lead the new interdisciplinary undergraduate program in Games and Playable Media with arts and engineering at UC Santa Cruz.
Hunicke is the co-founder and CEO of San Francisco's independent game studio, Funomena, and has a background in fine art, computer science and applied game studies. She was named one of Forbes's "Top 12 Women in Gaming to Watch" in 2013.
"Robin Hunicke is fabulous," said Jennifer Parker, Chair of the UC Santa Cruz Art Department. "She is a huge supporter of independent game development and an advocate of women and minorities within the games industry."

"Her vision to expand the arts to include games will enable a focus on experience design that partners well with the current Games and Playable Media program on campus," Parker added, "while also establishing a new place for Games as Art–bringing together original and unique ways of knowing and experiencing the world through engaged play."
Hunicke was recruited to join Electronic Arts in 2005, where she worked on The Sims2, MySims, and Steven Spielberg's Boom Blox series for the Wii. In 2009, she joined the independent game studio, thatgamecompany, as executive producer for the award-winning Playstation Network title Journey.
"I have admired Robin's work for many years, so having her join the faculty is a dream come true," said Jim Whitehead, UC Santa Cruz Professor of Computational Media. "Her blend of deep design and technical background is extremely rare, and I'm excited she will be bringing this knowledge to our students."
Hunicke co-organizes the Experimental Gameplay Workshop at the Game Developers Conference, the largest annual gathering of professional video game developers. She has chaired the IndieCade Festival of Indpendent Games, and has published and lectured extensively on the "Mechanics, Dynamics, Aesthetics" model of game design.
Continue reading full article here: http://news.ucsc.edu/2014/10/hunicke-games-art.html
###
Tagged game design, Robin Hunicke, UC Santa Cruz