Featured
Santa Cruz Public Libraries offers free self-paced tech courses through Webucator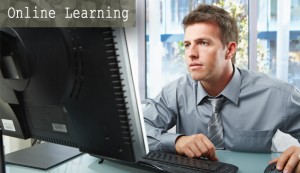 (contributed)
WHAT
Free online self-paced courses on Web Development, Microsoft, Adobe, Java and more are available to Santa Cruz Public Libraries patrons through a partnership with Webucator.
Classes include:
Microsoft Technologies and Software
Adobe Software
Web Development Technologies
Mobile Web Development
Mobile App Development
SQL and XML
and much more.
Course Content Includes:
Presentations: Watch interactive video presentations from an expert instructor who walks you through the content of the course.
Readings: Course content is introduced with concise, easy readings.
Exercises: Real-work exercises enforce the learnings from the presentations and enable you to test your knowledge.
Quizzes: Quizzes are scattered throughout the course to reinforce important concepts and lessons.
WHO
Webucator, a leader in onsite and online technology training, has developed the Library Partner Program to provide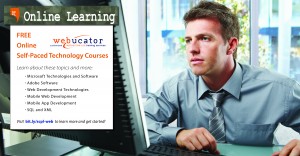 free self-paced courses through the web to individuals throughout the US via their local libraries.
Anyone who is eligible for a Santa Cruz Public Libraries account may access the free classes.
WHERE
To access Webucator's self-paced classes, visit the library's homepage at http://www.santacruzpl.org. Click on the "Internet Resources" tab in the main navigation bar. Choose "Online Learning", where you will find the link to Webucator and instructions to gain access. Or visit bit.ly/scpl-web for more information and details.
WHEN
Webucator is available now (effective October 22, 2014)
"It is so important for people to have the opportunity to gain technology skills in a way that is convenient and cost free. The Santa Cruz Public Libraries is pleased to support our community's goals in developing the high tech skills they need to succeed." –Diane Cowen, Virtual Services Librarian, Santa Cruz Public Libraries
###
Tagged Santa Cruz Public Library, Webucator