Events
Public Library offers workshops for Cybersecurity Awareness Month in October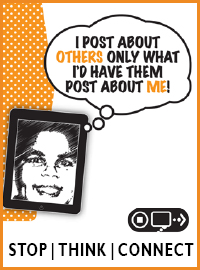 By DIane Cowen
Santa Cruz Public Library
September 27, 2017 — Santa Cruz, CA
Learn How You Can Stay Safe Online: Stop. Think. Connect.
The Santa Cruz Public Library System, a network of 10 neighborhood library branches throughout Santa Cruz County, has announced a series of cybersecurity workshops to be held at branch libraries throughout the County during National Cybersecurity Awareness Month this October.
Whether you are a business owner, a parent, a child, a teacher, a student, or a senior, YOU can have an impact on cybersecurity. By practicing strong and safe online habits, you can better protect your identity and the networks you use at home, at work, and anywhere you log on. Library Director Susan Nemitz says, "Cybersecurity awareness month is such an important time. With recent cyberthreats in the news, it will be important for new technology users and advanced users alike to review and learn the most effective practices for safe online behavior."
Join Library IT expert Lynne Sansevero in one of several cybersecurity workshops designed to help you connect online safely. These workshops are a partnership between the national STOP THINK CONNECT initiative and the Santa Cruz Public Libraries. Our current set of classes are specifically tailored for Older Community Members, Business Owners, Kids, Teens, and their parents.
About the presenter
Lynne Sansevero has over 21 years of experience in the Information Technology field, with extensive hands-on technical systems design, implementation, and support experience across a variety of organizations from San Luis Obispo to Silicon Valley. She holds an advanced degree in Information Systems Management and is currently the Division Manager of Information Technology at the Santa Cruz Public Libraries.
###
Tagged Santa Cruz Public Library