Featured
Cabrillo engineering camp inspires girls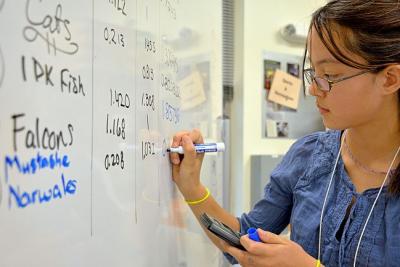 by Kara Gusman
Santa Cruz Sentinel
(photo credit: Emma Brokaw — Santa Cruz Sentinel)
After carefully fitting a wine cork onto a thumb-sized generator, Scotts Valley sixth-grader Seri Thompson pumped her fist with glee.
Along with 19 middle-school classmates at Cabrillo College's Girls in Engineering camp, Seri spent the week making speakers, mechanical hands and miniature buildings — all from household materials.
Seri said she especially enjoyed building a wine cork wind turbine and talking with a Cabrillo engineering student on plastic waste in oceans.
"Maybe some day I'd like to be an engineer," Seri said. "I didn't know they had such a big impact in the world."
Cabrillo's camp began last year as an effort to introduce girls to a field dominated by men. The camp has two five-day sessions, one of which is free, thanks to a grant from the Peggy and Jack Baskin Foundation.
A gender gap in college engineering programs exists throughout the state — across UC, only 24 percent of engineering undergraduate majors are women.
Part of the problem, said Jo-Ann Panzardi, Cabrillo's engineering department head, is not enough middle schools offering engineering classes. By generating interest early on, students are better able to build math and science skills, she said.
Continue reading full article here: http://www.santacruzsentinel.com/News/ci_26318501/Cabrillo-engineering-camp-inspires-girls
###
Tagged Cabrillo College