Companies
The Civinomics Roadmap: From Here to November
by Chris Neklason
Civinomics
A Civic Tool Box
Stated simply, the goal of the Civinomics site is to provide members with an online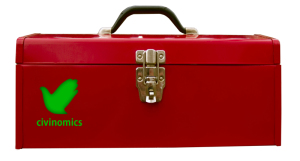 "civic tool box", a selection of web-based tools to facilitate participation in the civic process.
Current features include online workshops and initiatives and the just released new public meetings and agendas listings. There are several other features in the works, to be launched between now and over the summer and early fall to coincide with the November elections.
Organizations – a new category of membership for organized groups. Organizations will have different member privileges than individuals. For instance, organizations will not be able to vote on Initiatives or Ideas in Workshops. Instead, they will be able to state their position of support or opposition, with an explanation, upon which members may comment. Organizations can also be rated by other members, and organization profiles on Civinomics will host discussions where members may engage the organization.
Voter Guides/Sample Ballots – in California, we are all familiar with the paper sample ballots delivered weeks before each election…
Read full article here: http://civinomics.wordpress.com/2014/06/07/the-civinomics-roadmap-from-here-to-november/
###
Sara Isenberg publishes Santa Cruz Tech Beat for the benefit of the extended business and technology community. When she is not volunteering her time for the tech scene, Sara makes her living by managing software projects, web strategy planning, and providing development team services (including account management, vendor management, strategic partner management, beta project management, referrals to qualified technical team members, and more). Please visit her website: Sara Isenberg Web Consulting & Project Management, or contact Sara by email if you have any project management, account management, or Development Team leadership or service needs.
Tagged Civinomics