Featured
Which Santa Cruz communities are eligible for broadband subsidies?
by Steve Blum
Tellus Venture Associates
New ranking of Santa Cruz communities eligible for broadband subsidies posted for discussion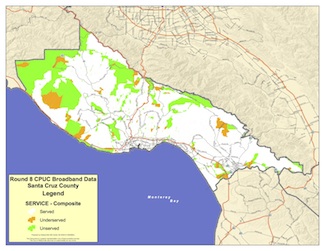 CASF-eligible areas in Santa Cruz County. Click for larger map.
The Pleasure Point/Twin Lakes area topped the list in the latest version of a broadband development priority analysis done by the Central Coast Broadband Consortium. Soquel and Brookdale came second and third, respectively.
The full list and the complete data set and spreadsheet analysis is available on the Civinomics.com workshop that's been created for ongoing discussion of how to evaluate broadband infrastructure development needs in Santa Cruz, Monterey and San Benito Counties.
We considered three general criteria: eligibility for subsidies from the California Advanced Services Fund (CASF), the potential social and economic impact of broadband development in a community and the feasibility of infrastructure projects. CASF eligibility is based on whether or not an area has access to consumer Internet service that delivers at least 6 Mbps download and 1.5 Mbps upload speeds. That's the minimum set by the California Public Utilities Commission, which has asked regional broadband consortia, such as the CCBC, to look at ways of setting priorities for the CASF program. The spreadsheet that's been posted on the Civinomics workshop has full regional data, though, and can be used for analyses that are independent of CASF considerations.
Impact and feasibility were assessed by census block on the basis of five factors: population, percentage of a community that lacks minimum broadband service, population density, number of public service sites reached and household income. Areas with lower income were ranked higher, although the spreadsheet also runs the rankings the other way for comparison purposes.
The data used came from the U.S. Census Bureau and the CPUC. Other metrics, such as the number of home based businesses, were suggested, but we haven't found a consistent or reliable data set that measures it evenly across the region.
In total, 30 Santa Cruz County communities – incorporated cities and census designated places (an official way of defining the boundaries of unincorporated areas) – were ranked. The City of Santa Cruz, Capitola and Bonny Doon were 4th, 5th and 6th on the list. The bottom three were Zayante, Rio del Mar and Pajaro Dunes: the CPUC's data shows no CASF-eligible homes in Zayante or Pajaro Dunes (or Freedom or Amesti), and only one in Rio del Mar.
The Civinomics workshop continues, and everyone is encouraged to join in.
###
Sara Isenberg curates and publishes Santa Cruz Tech Beat for the benefit of the extended business and technology community. When she is not volunteering her time for the tech scene, Sara makes her living by managing software projects, web strategy planning, and providing development team services (including account management, vendor management, strategic partner management, beta project management, referrals to qualified technical team members, and more). Please visit her website: Sara Isenberg Web Consulting & Project Management, or contact Sara by email if you have any project management, account management, or Development Team leadership or service needs.
Tagged Broadband, Civinomics, Steve Blum