Companies
A New Model of Local Entrepreneurship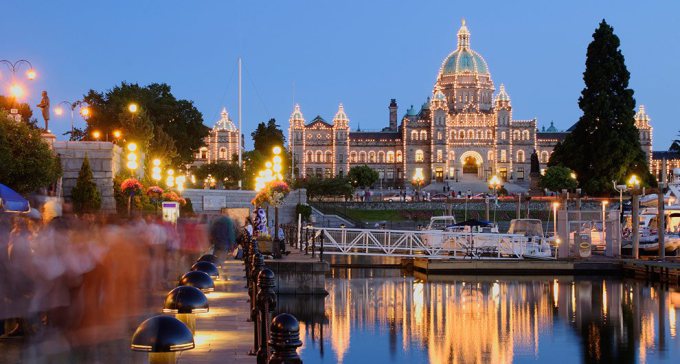 By Robert Singleton
Civinomics
September 9, 2015 — Santa Cruz, CA
(Photo above: The skyline of Victoria from the harbor. Source: Civinomics website.)
Reflections on The Chamber's Community Leadership Visit in Victoria, B.C., Canada
I am standing at the corner of a bustling intersection surrounded by a sea of young professionals and curious tourists of all ages. Buildings of 10 stories and more extend into the sky all around me, boasting small shops on their ground level with apartments layered in the floors above. The line at a nearby bus stop extends half way down the block, as locals and visitors alike wait their turn for either a commuter bus or a double decker sightsee-er. The local brewpubs, cafes, and restaurants are crowded, with spillover easily covering the open outdoor seating. I am in the center of what is undoubtedly a flurry of economic activity. It's a scene that could be found on the streets of any larger, more developed urbanized city the world over.
And yet, I am actually in downtown Victoria, a city of only 80,000 people, on an island, in the most southwestern part of Canada. I am here as a representative of the Santa Cruz business community, and as intrigued visitor. The primary purpose of my trip is to learn about and compare our communities.
Like Santa Cruz, Victoria is the home of a large public research university, with a 3-1 ratio of undergraduate to graduate students. The local economy is primarily based upon tourism and hospitality, with droves of fresh visitors arriving each day to see a number of anchor attractions and partake in many of the local activities. It is the Provincial seat of government, which, while being much larger in scale than Santa Cruz (Provinces are more akin to States than Counties), carries with it the high percentage of government employees.
It also has some of the same problems facing Santa Cruz. Housing is extremely expensive, and they have a vacancy rate of roughly 1 percent. They have a high rate of homelessness, with community leaders openly expressing frustration at their own inability to adequately address the problem. Residents tend to be more resistant to new local development projects, despite their initial buy in to the widely supported principles and community plans. And the lack of cooperation with other municipal partners in the region has left them fragmented in key areas of public management (wastewater treatment for instance). Overall the similarities between our communities are astounding, but there is one area in particular where they have an obvious edge, and that is economic development.
Continue reading article here: http://blog.civinomics.com/2015/09/08/a-new-model-of-local-entrepreneurship/
###
Tagged Civinomics