Featured
Q&A: Meet the New Head of Entrepreneurial Innovation at UCSC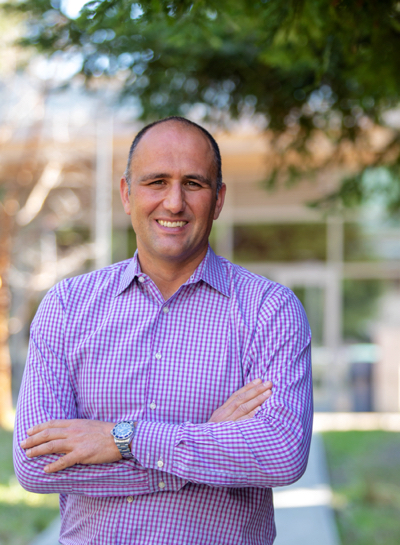 By Isabella Blackman
GoodTimes

April 21, 2021 — Santa Cruz, CA
(Photo above: Marco Rolandi will serve as the faculty director of UCSC's Center for Innovation and Entrepreneurial Development. Source: UCSC)
[Editor's note: Santa Cruz Tech Beat recently published Marco Rolandi appointed faculty director of UCSC Center for Innovation and Entrepreneurial Development (4/6/21). The article below is a related interview with Rolandi.]
Cruz Foam co-founder selected to lead UCSC Center for Innovation and Entrepreneurial Development
UCSC recently selected Marco Rolandi as the new faculty director of the Center for Innovation and Entrepreneurial Development (CIED).
Rolandi succeeds Physics Professor Sue Carter, who has held the position since 2015. As Rolandi prepares to take on his new role, beginning on July 1, GT spoke with him to learn more about the center as well as his groundbreaking work at UCSC.
Tell me about yourself and what you do.
MARCO ROLANDI: I am currently a professor and chair of the Electrical Engineering Department at UC Santa Cruz. Broadly speaking, my research area is in bioelectronics, which encompasses ways to interface electronic devices with biological systems.
You were recently appointed faculty director of the UCSC Center for Innovation and Entrepreneurial Development. What is this center, and why is it important?
The center coordinates entrepreneurial innovation activities across campus for students and faculty and helps spearhead innovation and entrepreneurial activities at UC Santa Cruz. I'm really excited to be the new director so that I can build on past successes and start new activities in that particular field.
In 2017, you co-founded Cruz Foam, a Santa Cruz-based company that makes environmentally friendly foam products, with a UCSC graduate student. What do you enjoy most about working with UCSC students?
I feel that UCSC students have a really strong desire to change the world for the better, and entrepreneurship can be a natural way of doing so. Cruz Foam started from the desire to minimize the plastic pollution that goes into the ocean. The company creates a foam that can be used for packaging. Unlike petroleum-based foam, this foam is completely biodegradable and naturally-sourced. In fact, it is actually sourced from seafood waste such as shrimp shells.
Continue reading here.
Tagged CIED, UC Santa Cruz