Events
UCSC Startup Entrepreneurship Academy offered again this summer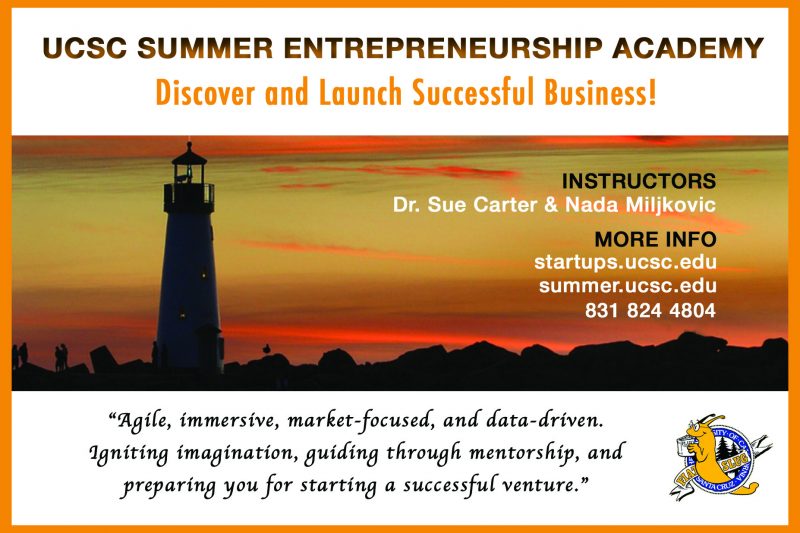 By Nada Miljkovic
Crown College Instructor at UCSC
Special to Santa Cruz Tech Beat
April 27, 2017 — Santa Cruz, CA
Reading student evaluations after finishing a class can be a nervous affair, especially for someone who is relatively new to teaching. At the end of last summer, I found myself in that situation and feeling anxious. Fortunately, the nerves quickly passed when I read the students' comments. "I'm pissed this class wasn't offered earlier." "I would highly recommend others to take this course, for it was one of the best classes I've taken at this university." "I enjoyed this class and hope that UCSC will continue to fund courses such as this one…." What a relief! The kids loved it as much as I did.
Business accelerator class at UCSC
What class am I talking about? Last year, I was privileged to teach UCSC's first business accelerator class, the Startup Entrepreneurship Academy (SEA). SEA (listed as Crown90) was developed as a collaboration between Dr. Manel Camps at Crown College and Dr. Sue Carter at the Center for Innovation and Entrepreneurial Development, and who is also Associate Dean of the Division of Graduate Studies.
This year, it is with great pleasure to announce that UCSC Summer Session is offering SEA again for the second year in a row. The class, CRWN 90-01 CLASS 71023, is based on the Lean Launchpad/National Science Foundation Innovation Corps model, in which students learn the basics of start-up design as they work in teams to develop business plans of their choice. In these projects, students are provided with the support from educators, entrepreneurial leads, and mentors who have startup experience. This class, which is open to all (graduate students, undergraduate students, and the public), is a five (5) credit GE PR – C (Creative) class.
The Lean Launchpad/NSF I-Corps model applies scientific methodology to the search for a successful startup idea. The students develop a hypothesis and test it by developing and implementing experiments. The experimental data gathered validates or invalidates the hypothesis. The students iterate, or in some cases pivot, until a successful idea is discovered. Large data sets are gathered because developing a successful startup requires it. By the end of the class, the students generate the business pitch, proposal and plan, and decide if they are ready to start up a company.
In the class, we teach Osterwalder's Business Canvas, the customer discovery process developed by Steve Blank, and agile collaborative design development. Our methodology is very different from the classic waterfall company development model that can many times involve creating a solution and minimum viable product before doing comprehensive customer discovery. SEA flips this model. We begin immediately testing the initial value proposition and continue to do market outreach and analysis throughout the class.
The students "get out of the building" to talk with all the stakeholders within their potential business ecosystem to find what is the "whole" or best solution before committing to a business plan. This happens after and through a lot of customer discovery. We require students to have conducted 60+ interviews by the end of the course. This way their data set is large enough to allow for patterns to emerge and be recognized, as well as revealing outliers. The students present, virtually, their new business canvas each week to reflect the new information.
For people with busy schedules
The class was created for people with busy schedules. It begins with an in-person, one day intensive workshop. It continues online with weekly webinars where students present their learning for the week, office hours, and access to mentors/experts with expertise in specific industries/market sectors being explored by the student teams. It ends with an in-person, one day intensive workshop where students give their final presentations and pitches. The in-person component at the start and finish is critical to the effectiveness of the accelerator. In addition, we strongly rely on, and are currently seeking, great mentors who can dedicate a minimum of 15 minutes each week to work with a student team.
Funding and fellowships
Thanks to the great efforts by Dr. Sue Carter to secure NSF funding, financial aid will be available for students who would otherwise not be able to afford the class. We also have funding to cover travel costs so that teams can visit potential customers in-person for the most effective interviews. Summer fellowships are also available for graduate students interested in taking the course.
If you are interested in being involved as a student, principal investigator, or business mentor, please contact me at nada@ucsc.edu. For more information and updates, visit our website, StartUps.UCSC.edu, and UCSC Summer Entrepreneurship Academy Facebook page. We are also holding several information sessions in the next two months that everyone interested in the program is welcome to attend.
About Nada Miljkovic
She is a multi-disciplinarian educator, entrepreneur, and artist who teaches and creates stories, media, and business plans. She is the founder and CEO of Artist on Art, a Santa Cruz Video and Media Production Company.
###
Tagged UC Santa Cruz