Events
What's the connection? Coral reefs, crochet, hyperbolic geometry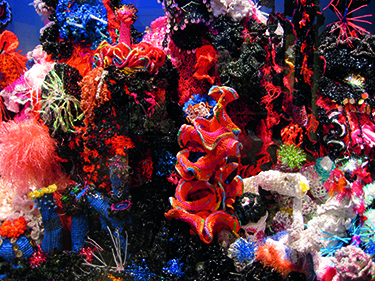 By Sara Isenberg
Founder, Publisher, Editor-in-Chief, Santa Cruz Tech Beat
February 9, 2017 — Santa Cruz, CA
(Photo above: The Toxic Reef at the the Sant Ocean Hall, in the Smithsonian's National Museum of Natural History, Washington D.C., 2011. Source: Institute For Figuring)
The Beautiful Math of Coral
You may have read about the Crochet coral reef exhibition opening February 10 at Mary Porter Sesnon Gallery on UCSC campus. The exhibition, by Margaret and Christine Wertheim and the Institute For Figuring, runs February 10 – May 6, 2017.
Perhaps you didn't know that the crochet technique was invented by a mathematician and is perfectly adapted to model hyperbolic space.
"Snowflakes, fractals, the patterns on a leaf — there's beauty to be found at the intersection of nature and physics, beauty and math. Science writer Margaret Wertheim (along with her twin sister, Christine) founded the Institute for Figuring to advance the aesthetic appreciation of scientific concepts, from the natural physics of snowflakes and fractals to human constructs such as Islamic mosaics, string figures and weaving." (Source)
"I think every visitor will be impressed and surprised by the scope and scale of this exhibition, as it tackles big issues on climate change, ocean acidification, plastic trash, and community art-making," said Sesnon Gallery Director Shelby Graham. "When you realize this powerful story is being told through crochet, you'll want to learn about the math, science, and collaborative art practices behind it all."
Watch this fascinating discussion of the coral-crochet-math connection in this TED video, The Beautiful Math of Coral, with Margaret Wertheim.
###
If you wish to republish this article, please follow our Terms of Use.
###
Tagged UC Santa Cruz