Companies
New Tech Brings Lab to Ocean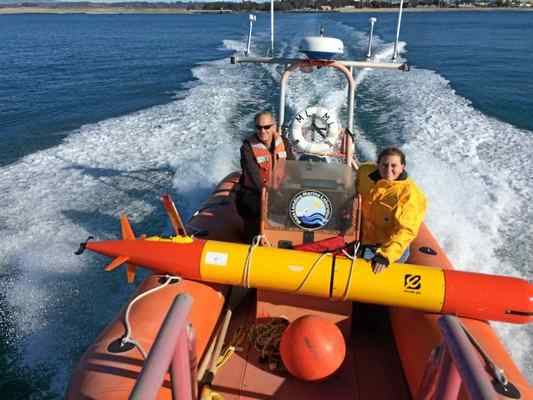 By Alison F. Takemura
Santa Cruz Sentinel
(Photo above: Monterey Bay Aquarium Research Institute engineer Brett Hobson, left, and researcher Christina Preston, right, deploy a new device that 'brings the lab to the ocean' housed in the torpedo-shaped underwater vehicle, Makai. Credit: Brian Kieft, MBARI)
A new device, nestled in the heart of a roving, seven-foot yellow submarine, lets researchers peer into the ocean's changing chemical and microbial worlds.
Created by a team at the Monterey Bay Aquarium Research Institute, the gadget can sample ocean water on-the-fly to detect microorganisms and potentially harmful compounds. By processing samples immediately, the technology is a way of "bringing the lab to the ocean," said Jim Birch, the team's leader.
The new device is an update to an older, second-generation model. Basically a 50-gallon drum, the older processor could sample ocean water at depths of 10 to 20 meters, but only at one spot. A heavy railroad wheel would anchor the instrument to the sea floor, Birch said.
Now the team has engineered the device to be mobile in a long-range underwater autonomous vehicle. Taking about two basketballs' worth of space in the front payload section of the Makai — the name for MBARI's UAV — the processor can go wherever the vehicle swims. That's about 2,000 miles, or the distance from Los Angeles to Chicago. And the device works even at more than two miles deep.
The ocean is a patchy place; for example, an algal bloom here, a zooplankton-dense parcel there. Scientists can program the Makai to follow a patch of water and sip in samples.
But the ocean depths also stratify into different layers. With the new processor, "you can actually hang within a layer, and then sample that layer over time," said Christina Preston, an institute researcher.
Because ocean environments change so quickly, scientists need the flexibility of a mobile device, Birch said. "This is going to transform oceanography," he said.
Continue reading article here: http://www.santacruzsentinel.com/science/20160221/new-tech-brings-lab-to-ocean-will-transform-oceanography
###
Tagged Marine Tech, MBARI