Featured
Lookout: UCSC gears up to begin search for COVID-19 variants in Santa Cruz County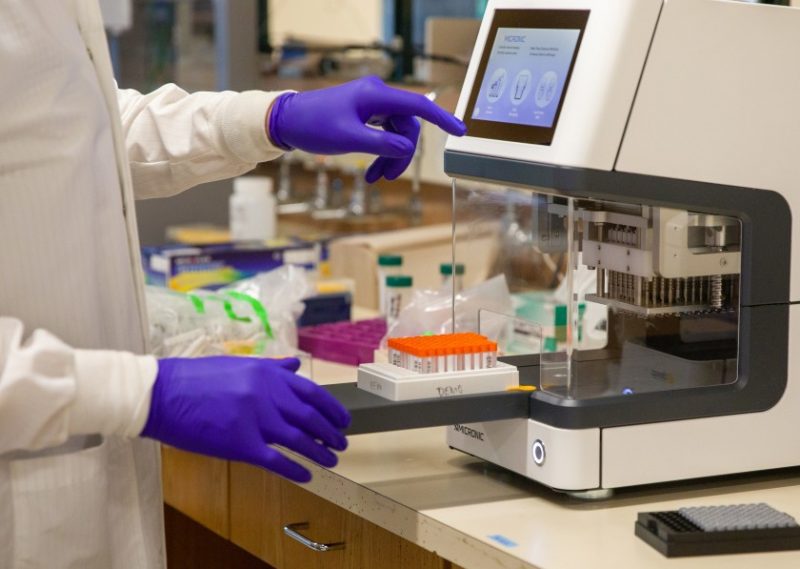 By Nick Ibarra and Mallory Pickett
Lookout Santa Cruz
February 16, 2021 — Santa Cruz, CA
(Photo above: Positive COVID-19 test results from tests performed at the UCSC Molecular Diagnotics Lab will be curated for genetic sequencing starting later this month. Credit: Carolyn Lagattuta / UCSC)
Genetic sequencing of virus samples sourced from the campus and partner clinics is set to begin by the end of February, providing a new surveillance tool that has the potential to detect variants and chart the pandemic's progression here.
While new and potentially more contagious COVID-19 variants continue to crop up across California, not a single such case has been confirmed in Santa Cruz County. But that might only be true because — until now — no one has been looking.
In coming weeks, that's set to change. The Genomics Institute at UC Santa Cruz is gearing up to begin routinely sequencing the genetics of virus samples for the first time, using positive tests from the campus and its partners across the county.
Routine sequencing is on track to begin by the end of February, according to researchers and campus officials — starting at a pace of about 100 samples per week, with the aim of quickly expanding.
Continue reading here: https://lookout.co/santacruz/coronavirus/story/2021-02-10/covid-19-variants-santa-cruz-county-genetics-probe
###
Tagged Baskin School of Engineering, COVID-19, Genomics Institute, UC Santa Cruz