Featured
Q&A: Rob Currie, Genomics Institute CTO, on "the global virtuous cycle of open data" (and more)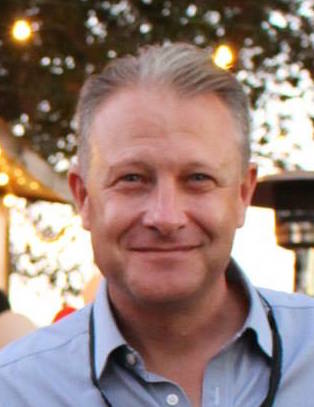 By Sara Isenberg
Founder, Publisher, Editor-in-Chief, Santa Cruz Tech Beat
October 13, 2016 — Santa Cruz, CA
(Photo above: Rob Currie is the new CTO at UCSC's Genomics Institute. Contributed.)
Rob Currie was recently named Chief Technology Officer (CTO) at UCSC's Genomcis Institute (GI). Since this is a newly created position, I was curious find out what Currie will be focused on in his new role and what his primary goals are for the coming year. One of the more intriguing goals (to me) is his plan to "kick start a global virtuous cycle of open data sharing so we can all benefit from the explosion in genomic data."
SCTB: You were recently named CTO at UCSC's Genomics Institute. Why did GI create this position?
RC: This is a new position reporting to Professor David Haussler, the Scientific Director of the Institute. Genomics is expanding from a primarily research discipline into one with broad applications in industry and medicine, opening up room for someone like myself with an operational perspective and applied background to contribute.
SCTB: What were you doing before this?
RC:  I spent 25 years in the valley at a variety of startups from digital signal processing, enterprise software, and geospatial navigation. Amazing fields all full of challenges — but I have to say genomics is an order of magnitude more impactful, complex, and challenging then anything I've ever been involved with before.
SCTB: I read your LinkedIn profile. How does one go from Universal Audio to Genomics?
RC: I answered Professor Haussler's call for "geeks to help build the detailed computer programs we need to understand the true complexity of cancer." [ED Talk, Video] I first met Professor Haussler at a conference at UCSC on the "Genomic Open" and their pioneering role in keeping genomics open for the benefit of… well… the world! He was hatching an idea about a global genomic internet of cancer data to help fuel the next stage of insights and clinical practice. I started contributing to its design and soon couldn't get enough of all things genomics. I started reading everything I could get my hands on, working through bioinformatic problem sets from Coursera, listening to interviews and videos on genomics, basically eating, drinking, and sleeping it. David sent me a link to an 800 page textbook on molecular genetics and said "read this!"
SCTB: What are your responsibilities as CTO at the Genomics Institute?
RC: To help build the technical teams, systems, and external relationships the Institute needs in order to expand the application of genomics. Some of this involves basic nuts and bolts of software to manage, process, and analyze genomic data. I'll also be working with the international community through projects at the Global Alliance for Genomics and Health.
SCTB: How much of your role is inward facing within GI vs outward facing?
RC: It's running about 50/50. Internal examples include evolving the software systems that clinical researchers use at the institute to analyze samples from patients at partner hospitals in programs like the Treehouse Childhood Cancer Initiative. Outward examples include helping those same hospitals run some of our genomics processing pipelines at their institution directly. The project I mentioned earlier that introduced me to the Institute has evolved into the Cancer Gene Trust which is a global bridge between the genomic data generated in clinical settings and researchers that need orders of magnitude more data to better understand cancer and improve clinical outcomes. There's a fantastic opportunity to create a virtuous cycle through sharing of genomic data generated in clinical settings which will fuel the next stage of medical advances by leveraging insights from that very same data.
SCTB: What are your 2-3 biggest goals for the coming year?
RC: (1) Evolve our software systems so that researchers spend more of their time on science and insights from clinical genomic data, and less on software and data wrangling. (2) Grow the Institute's role in applied genomics — both medical and industry — as a compliment to the world class research at the Institute, and (3) Kick start a global virtuous cycle of open data sharing so we can all benefit from the explosion in genomic data.
SCTB: Biggest challenges for the coming year?
RC: Understanding everything in that textbook!
SCTB: Good luck with that!

###
If you wish to republish this article, please follow our Terms of Use.
###
Tagged Genomics Institute, UC Santa Cruz