Companies
The Good Kind of Accident: GetVirtual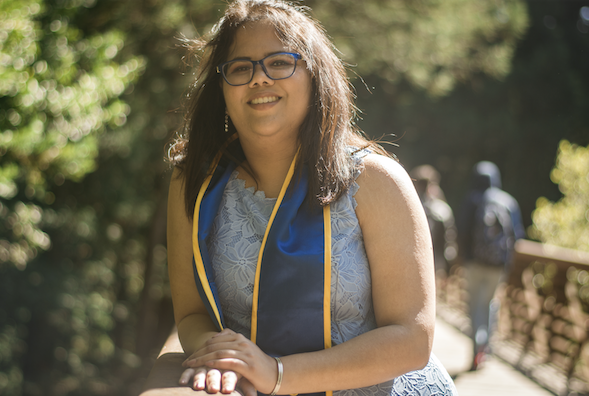 By Nikhila Cherukuthota
Co-founder and project manager, GetVirtual
Special to Santa Cruz Tech Beat
February 9, 2021 — Santa Cruz, CA
(Photo above: Nikhila Cherukuthota, recent UCSC graduate, shares her experiences working with GetVirtual, a local non-profit that pairs students with local businesses to build their online presence and survive COVID-19. Contributed.)
If someone came up to me a year ago, and told me I'd be working at a Santa Cruz-based nonprofit that specializes in entrepreneurship, web development, marketing, and project management, I would have been appalled. But if someone were to come up to me today, I would tell them working with this nonprofit has been the most transformative and fulfilling professional experience I have ever had.
In the five month gap I had between graduating from UCSC and joining GetVirtual, there was a deep sense of dissatisfaction, restlessness, and, most prominently, loneliness. This could have been due to not being in school for the first time in seventeen years. Quarantine may have added fuel to fire or it could have been the job market having so few opportunities for early professionals. Whatever the cause was, the effect was starting to reach a stage of unbearability.
It was during this time that I reached out to Nada Miljkovic, one of my favorite professors and one of my favorite beings on the planet, to check how she was doing and to thank her for the endless support she had given me during my time at UCSC. She informed me of GetVirtual, and asked that I join the next meeting. Initially, I was overwhelmed with the ambition of GetVirtual and the extremely competent team members. Saying I was tempted to decline this opportunity would be saying the least; I did not have the skillset and felt I would not have been able to make as large of an impact as the other team members already had made. As a neuroscience and economics major, I did not have much experience with building websites or marketing. But Nada, along with my fellow student co-founders, reassured me that the web development tools were no-code and simple to learn. And with this reassurance, I told Nada I was onboard!
Within the first few weeks of joining GetVirtual, I had learned how to use Squarespace, Wix, and Shopify (I hadn't even heard of Squarespace before GetVirtual!). Shortly after, I was project managing and months later, I had learned to use Later (pun unintended) from a fellow co-worker. And just last week, a student in the GetVirtual class at UCSC taught me about a tool that helps clients choose a color palette! Learning the hard skills was predictable; you meet clients, you meet new people and you learn and grow together. But what I was not expecting, was the sense of accomplishment and, consequently, confidence gained.
With encouraging mentors like Toby Corey and Nada Miljkovic, who see nothing as difficult or impossible, you are inevitably turned into the best version of yourself. Not the kind who is just good at work, but the kind that also cares for the environment, recognizes that the pandemic-induced transition is a time to work collaboratively rather than competitively, and seeks to learn as much as they seek to mentor. Just simply listening to them has the ability to change mindsets and boost confidence.
Another great thing at GetVirtual is that nobody is "departmentalized." Team members across UCSC, CSUMB, SCU, and SCSU have the opportunity to cross pollinate and work on projects together. With an extremely versatile team, we are all constantly learning and teaching each other, keeping us humble yet confident (and I see some of my teammates as friends for life!).
Last but not least, the sense of community and being able to give back to the place I once called home is perhaps the most rewarding thing I have done. During my last year at UCSC, I lost my grandfather and uncle, and the pain was insufferable and gut-wrenching. But the solace that I found walking through the woods on campus, overlooking the breathtaking view from OPERS, stopping by Gayle's Bakery for cake and consuming said cake with a friend, and looking at Cowell Beach from my balcony unknotted the nerves in my gut, easing what I thought would be everlasting grief. And though this all happened by accident, I am eternally grateful to GetVirtual for providing me with the opportunity to give back to the community that nurtured me with so much comfort when I needed it most, for all the friends and mentors I have met, for the tools I've learned, and for the invaluable increased self-esteem.
###
Tagged GetVirtual, UC Santa Cruz