Companies
The FarmWise Titan FT-35 makes Time's "Best Inventions of 2020"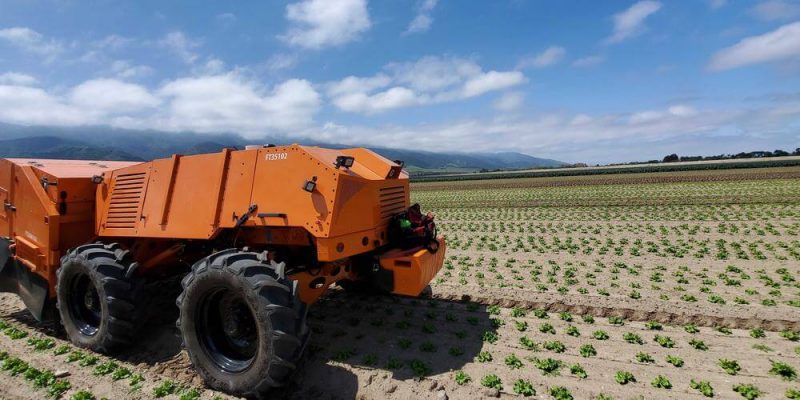 By James Herrera
Monterey Herald
December 15, 2020 — Salinas, CA
(Photo: The FarmWise Titan FT-35 was named to TIME's list of The Best Inventions of 2020. The driverless tractor uses artificial intelligence, computer vision, and precision robots to weed crops without the use of herbicides. Source: FarmWise)
Time magazine recognizes Salinas company's innovation
A behemoth of a worker, recently recognized by a national publication, that can meticulously and precisely remove weeds growing between sprouting crops is being employed on farms in California and Arizona.
Time magazine recently placed the FarmWise Titan FT-35 on its list of Best Inventions of 2020. It is an automated mechanical weeder that can help substitute the pass of a hand-weeding crew, which usually has 10 to 15 people.
FarmWise has its operations headquarters, or home base for its team and machines, in Salinas and an office in San Francisco that houses most of its engineers. The company works with farming operations in the Salinas Valley such as Dole and Braga Fresh, plus dozens of other customers.
The company views the Time magazine distinction as an opportunity to share with a broad audience its innovation for vegetable farmers. Following the mid-November publication of the list, FarmWise has seen support build from media outlets and the investor community.
"We've been deploying a machine in Santa Maria with Bonipak since early 2019," said Pauline Canteneur, a FarmWise spokesperson. "We just opened a location in Yuma, Arizona and started doing work in Imperial Valley, California as well."
The Titan FT-35 is the third and most advanced robot from FarmWise and was released in April of this year. It is a driverless tractor that distinguishes vegetable crops — including broccoli, lettuce and cauliflower — from the weeds that hinder their growth with the help of state-of-the-art artificial intelligence and computer vision. The Titan can uproot weeds with mechanical tools down to one centimeter of precision.
Continue reading here: https://www.montereyherald.com/2020/12/09/salinas-company-farmwise-has-weeder-on-times-list-of-best-inventions-of-2020/
###