Companies
An AgTech Revolution in our own backyard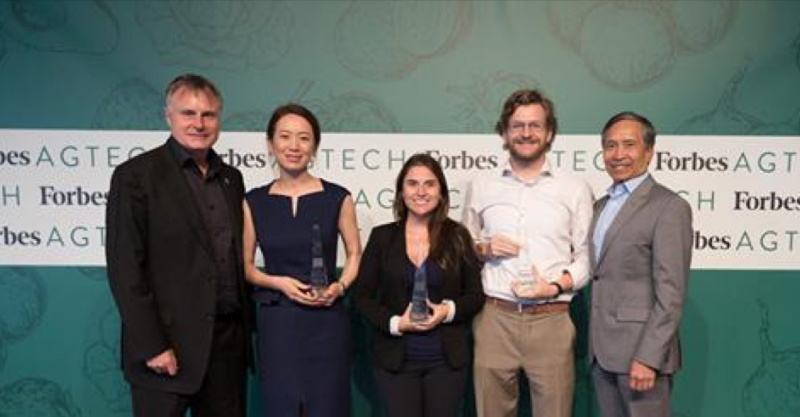 By Emily Breslin
THRIVE/SVG Partners
August 10, 2017 — Salinas, CA
(Photo above: left to right, John Hartnett, SVG Partners and THRIVE founder and CEO; Xuemei Germaine, CEO MicroGen Biotech, Ireland;  Mariana Vasconcelos, CEO Agrosmart, Brazil; Andy Myrick, City of Salinas economic development director; Ray Corpuz, Salinas City Manager. Source: AgTech SVG Partners website)
[Editor's note: In a related article, Santa Cruz Tech Beat published CEOs present sustainable solutions at Forbes AgTech Summit (7/3/17).]
A historic agriculture community, the City of Salinas is using its biggest asset to drive new opportunities for its residents, and startups around the world
For the past three summers, Main Street in Salinas, California has become the gathering place for corporate executives, startup teams, growers, and academics looking to commercialize the next agriculture technology. Perhaps an unlikely venue for hype usually reserved for the Silicon Valley to take place, Salinas has become the place to grow and scale seed and growth stage agriculture technology startups. But it is its proximity both to growers in the surrounding agriculture sector and startup and VC cluster 40 miles north in the Silicon Valley which give agtech and foodtech companies locating there a strategic advantage.
For all the success of the city's fledging agtech economy, the infrastructure and strategy behind it are relatively new to city hall.  For decades, the climate and soil of the Salinas Valley have made it been a hub for agriculture production and processing and home to some of the largest specialty crop producers in the world. In 2013 the city faced a major unemployment crisis, as the shuttering of one of its main non-agriculture employers, Capital 1, meant that hundreds of residents were out of work.
The city responded quickly, gathering with SVG Partners and a group of experts across different sectors. City staff then conducted an analysis of Salina's strengths and weaknesses, ultimately returning to agriculture as an invariable asset. Andy Myrick, economic development director in Salinas, describes how technology came into the picture at that point: "there was a collective recognition that technology was proving to be this huge disruptive force across industries." Looking back, Myrick recounts that disruption in agriculture had yet to be seen, "and that's when we saw the opportunity".
Continue reading this article here: http://thriveagtech.com/thrive-news/2017/8/4/an-agtech-revolution-in-our-backyard
###
Tagged agtech, Salinas, Salinas Valley, Thrive Accelerator