Featured
Robotic etiquette: Engineering improved human-robot interaction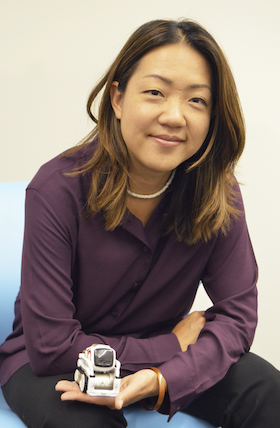 (Source: Inquiry, UCSC Research Magazine)
December 10, 2020 — Santa Cruz, CA
(Photo: Associate professor of computational media Leila Takayama works in the growing field of human-robot interaction, which seeks to improve this interaction by studying robots, like the one sitting here in Takayama's hand, and their human users to better understand the dynamics on both sides of the relationship. Credit: Melissa De Witte.)
Most people don't know what to do when they first encounter a robot.
Some swarm around it. Some stand back. And some misinterpret its behavior. That's what happened to Leila Takayama, UC Santa Cruz associate professor of computational media, when she first met PR2 (Personal Robot 2), a social robot built by the robotics company Willow Garage.
When she walked through the front door of the company's Palo Alto headquarters, the PR2 rolled up to her and paused. She expected a greeting, but it spun its head around and ran away. "I felt blown off, but that doesn't make sense," Takayama said. "It was just trying to get from point A to point B and was replanning its path, but I couldn't help but feel insulted."
It's natural to misread a robot's intentions, both because of how robots are currently designed and also our usually inflated expectations of what they can do, said Takayama, who aims to improve both sides of this stilted relationship with her research on human-robot interaction. This growing field of study, driven by rapid advances in both artificial intelligence and robotics engineering, employs a broad set of disciplines to explore a wide range of challenging subjects, from how humans work with remote, tele-operated unmanned vehicles and surgical robots, to self-driving vehicles and collaborations with anthropomorphic social robots.
While personal computers have become much more user-friendly over time, that's not the case for robots. "They're still in the dark ages, in terms of being usable and useful for normal people. I felt like that's a pretty big problem that could be addressed with better human-centered design and research," Takayama said.
Bad manners
In the next several decades, we'll likely see a wide range of robots ambling about our hospitals, homes, workplaces, and groceries, as well as on sidewalks and in the street, where autonomous cars count as robots, too. Prototypes of those future robots already wander about some cities, especially in the Bay Area. But today's robots lack the subtle common sense we humans take for granted every day as we navigate our social world. And without this common sense in robots, humans get confused. Takayama's broad background in the social sciences, cognitive science, behavioral science, and psychology, comes in handy here, giving her insights that engineers might not recognize as relevant and important.
For example, in order to conserve power, engineers typically build robots to be efficient with their motions. But that can be a problem, said Wendy Ju, an assistant professor of information science at Cornell University and frequent Takayama collaborator. "The unintended effect is that robots seem stiff, even kind of snotty. Robots need to move around to seem natural and make people feel more comfortable. That's something that only someone who studies people would think of," she said.
Continue reading here: https://inquiry.ucsc.edu/2020-21/robotic-etiquette/
###
Tagged Baskin School of Engineering, Robotics, UC Santa Cruz