Events
Watch: UCSC Business Design Showcase, reflections on 2016, plans for 2017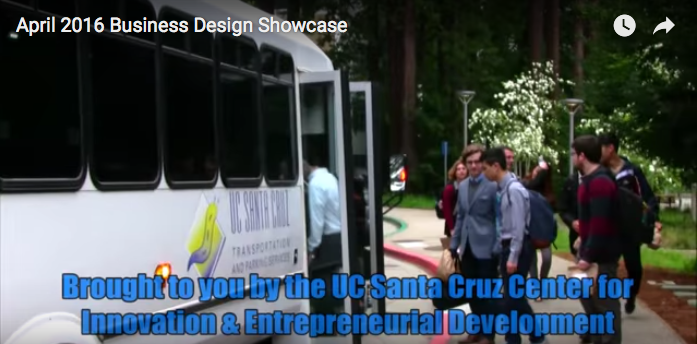 By Sara Isenberg
Founder, Publisher, Editor-in-Chief, Santa Cruz Tech Beat
November 3, 2016 — Santa Cruz, CA
UC Santa Cruz held the 4th annual Business Design Showcase in Sunnyvale last April 12, 2016. In case you missed it, watch the video below — just posted on YouTube by the Center for Innovation & Entrepreneurial Development (CIED) at UCSC.
The video contains an overview of other events that are produced or coordinated by CIED.
The 5th annual Business Design Showcase will be held at the newly relocated UCSC Silicon Valley Campus on Tuesday, April 18, 2017.
If you're interested in being considered as an entrepreneur mentor to a student business or an entrepreneur judge of the 2017 competition, please email cied@ucsc.edu. For more information, check the CIED website.
###
Tagged CIED, UC Santa Cruz