Companies
How can we use machine learning to provide insights about COVID-19?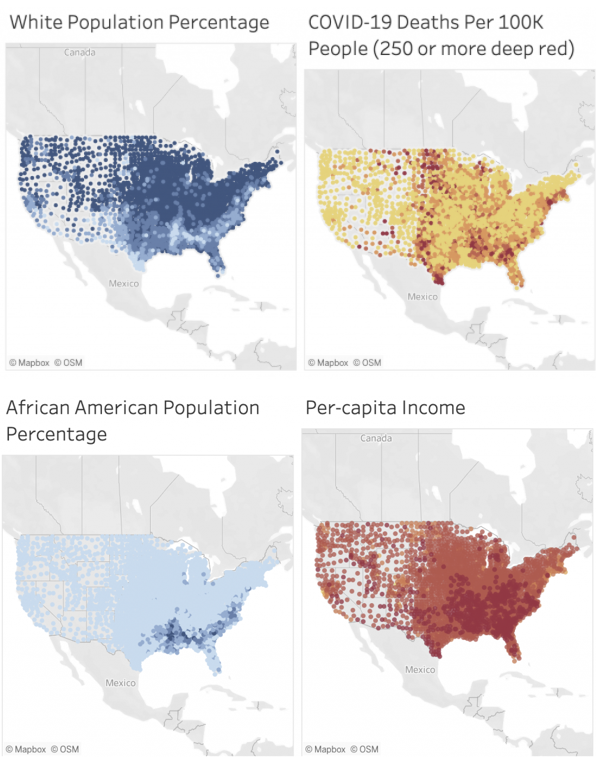 By Matt Paterson
Data Scientist, Cloud Brigade
December 1, 2020 — Santa Cruz, CA
The Problem
How can we use Machine Learning to provide insights that will help public policy makers and officials save lives and keep people healthy during the COVID-19 pandemic?
The Data Science Problem
How can we create a set of Machine Learning models and Data Science tools that identify the leading indicators of a COVID-19 danger zone or hot-spot and help our community protect itself against this deadly disease?
The Resolution
Using Linear Regression models, correlation matrices, and Kmeans clustering algorithms we can put large amounts of data into a quick process that can identify the largest indicators of danger zones.
The Benefits
Our dashboard can identify areas where COVID-19 is hitting hardest and highlight reasons why that might be.
The Use Case
Policy makers can use this dashboard to create preventative policies such as masking requirements, social distancing requirements, closures of bars/indoor dining, or the limiting of public gatherings; can identify industries such as farming or meat-packing that have higher incidence of transmission and more dangerous comorbidities in the population.
Our Future Steps
Using DeepAR in a Recurrent Neural Network, we can create a time series prediction engine that can help us plan and react on the fly to changes in the spread of the virus.
ORIGIN STORY
About a month after the stay-at-home orders were issued in the Bay Area, we began to notice a disparity in what was being reported in the news about COVID-19. Every day we were seeing dashboards with data graphs around infection rates and death rates, but he also heard stories reported that weren't being reflected in that data.
We're talking about everything from socio-economic and behavioral data, to unproven claims about climate and sunlight killing the virus. We thought that if we could acquire this data, we could learn some interesting things about COVID-19 using Machine Learning. By identifying the leading indicators present in the hot spots, we might better understand what was contributing to these outbreaks, and debunk some myths along the way.
Continue reading here: https://www.cloudbrigade.com/exploring-covid-19-data/
###
Tagged Cloud Brigade