Companies
Decentralized fact checking and exploration platform, Wiseper, selected to participate in LaunchPad Fellowship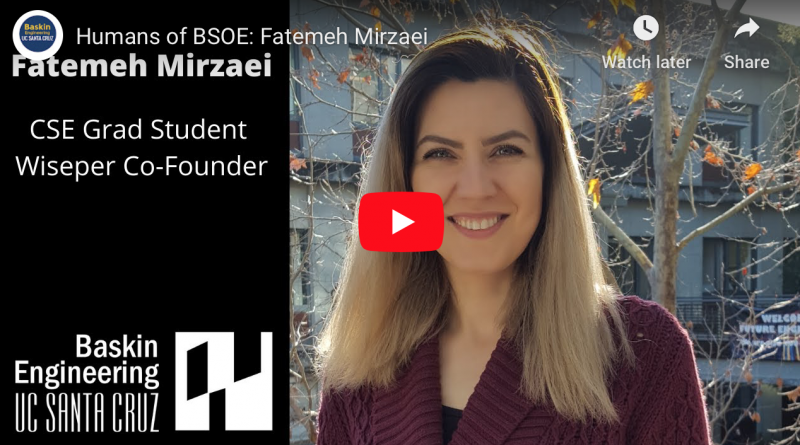 (Contributed)
October 28, 2020 — Santa Cruz, CA
(Photo above: UCSC Computer Science and Engineering Ph.D. student Fatemeh Mirzaei is one of 40 chosen for the LaunchPad Fellowship: Social Impact this fall. The program, offered by the Blackstone LaunchPad & Techstarts network, and supported by Future Founders, includes a $5,000 grant and 8 weeks of entrepreneurial resources, mentoring, workshops, and support.)
Fatemeh Mirzaei Joins Social Impact Student Founders in Blackstone LaunchPad & Techstars Fall Fellowship
Wiseper, a decentralized fact checking and exploration platform from University of California Santa Cruz has been selected to participate in the LaunchPad Fellowship October through December. This cohort of the LaunchPad Fellowship is focused on social impact student startups – those seeking a positive societal outcome, beyond financial success. Fall Fellowship participants have ventures focused on healthcare, mental health, sustainability, education, employment, and more.
Over the course of eight weeks, these college students and 2020 graduates will have access to resources, support, and mentorship to help them advance their startup ideas. The program is structured around LaunchPad Campus Director coaching sessions, weekly entrepreneurial workshops, and mentoring from Blackstone Campus Ambassadors and Techstars entrepreneurs and advisors during a 'LaunchPad Mentor Week'. Students will also have the opportunity to hear first-hand from social impact entrepreneurs from organizations like TalkingPoint, Cloztalk & Imerman Angels, All Star Code, and River Health.
Watch to learn more about Wiseper:
"If 2020 has taught us anything, it's that the world needs more young entrepreneurs who are willing to build businesses that not only serve their customers, but serve as a force for good as well," said Scott Issen, President & CEO, Future Founders. "We're excited to expand our role with the Blackstone Launchpad Fellowship, and offer these talented student entrepreneurs the training, peer community, and resources they need to create lasting social impact."
Selected startups include a subscription box for parents and teachers with resources addressing social justice topics, an app for teachers in developing countries that allow them to share videos on effective teaching practices without the internet, and a mental health service that offers a comprehensive, accessible platform to non-English speaking communities. Additionally, as the COVID-19 pandemic continues to impact small businesses around the United States, one of the selected startups is working to connect small businesses that have been hurt commercially by the pandemic with volunteer university students and graduates with applicable skills.
Fatemeh and her co-founder are very excited about joining this program.
"Wiseper mission is to keep general public well informed about pressing issues like health, food, and climate change. During the Covid-19 pandemic we all witnessed how misinformation on health issues could damage our collective wellbeing. This is a great opportunity to connect to like-minded successful companies and entrepreneurs and learn from their success and failures. Our hope is that this fellowship opens up more opportunities for Wiseper to grow its community and reach its capacity to serve millions of people to combat misinformation." –UCSC Computer Science and Engineering Ph.D. student Fatemeh Mirzaei
In addition to coaching and mentorship from LaunchPad Campus Directors throughout the 8 weeks, students will also get the chance to participate in a Techstars Mentor Week and attend the virtual LaunchPad Speaker Series. This LaunchPad Fellowship will begin on October 19th and conclude on December 11th, 2020.
###
About Blackstone LaunchPad & Techstars
The Blackstone LaunchPad & Techstars entrepreneurship network helps students build next-generation companies and careers. We work with higher ed institutions to deliver proven startup resources, facilitate access to a global network of mentors and advisors, and offer unique virtual and physical convening opportunities for college students to go further, faster. Students will learn by doing, giving them the knowledge and know-how to help them succeed as a founder or contributor to the innovation economy. For more information, see www.blackstonelaunchpad.org
About Blackstone Charitable Foundation
The Blackstone Charitable Foundation was founded at the time of Blackstone's IPO in 2007 with substantial commitments from the Firm's employees. Influenced by the enterprising heritage of the firm and its founders, The Blackstone Charitable Foundation is directing its resources and applying the intellectual capital of the firm to foster entrepreneurship in areas nationwide and globally. Through its investment expertise across several asset classes and geographies, Blackstone has a unique perspective on the global economy and a heightened understanding of how entrepreneurial activity is often the crucial catalyst in the growth of successful businesses, industries, and communities. For more information, see http://www.blackstone.com/foundation.
About Techstars
Techstars is the global platform for investment and innovation. Techstars founders connect with other entrepreneurs, experts, mentors, alumni, investors, community leaders, and corporations to grow their companies. Techstars operates three divisions: Techstars Mentorship-Driven Accelerator Programs, Techstars Corporate Innovation Partnerships, and Techstars Communities. Techstars accelerator portfolio includes more than 2,200 companies with a market cap of more than $2 billion. www.techstars.com.
About Future Founders
Future Founders is a non profit organization that helps 18 to 30-year-old entrepreneurs create and scale ventures across all industries. The organization's multiple accelerator programs are offered free of charge, and focus on pairing a strong peer community of like-minded founders with intensive coaching from seasoned entrepreneurs. Over the last four years alone, Future Founders has helped hundreds of companies collectively generate over $33 million in revenue, raise $36 million in capital, and create 543 jobs.For more information visit www.futurefounders.com.
###