Events
UCSC Women in Science and Engineering (WiSE) to host 10th Anniversary Gala in May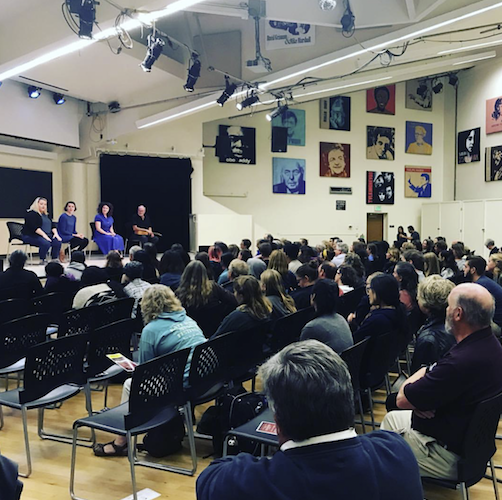 (Contributed)
April 30, 2019 – Santa Cruz, CA
(Photo above: A talkback discussion after the UCSC showing of the NoBelles, a theatrical performance celebrating remarkable women who overcame barriers to make groundbreaking scientific contributions. This performance was brought to UCSC through a collaboration between WiSE and the Silicon Valley chapter of the American Chemical Society. Contributed)
WiSE works to address the leaky STEM pipeline
Gala will be held on Sat, May 18, 6-9pm, and is open to the public
At UC Santa Cruz, a student-run organization, Women in Science and Engineering (WiSE), aims to empower minorities, particularly women, to pursue an education in a STEM.
The WiSE program was initially run by the Graduate Division until June 2009, when budget cuts forced the transition of the program into a student-run group. A group of five women, graduate students, and postdocs volunteered to organize events and meetings to retain and recruit women in STEM fields.
As members of UCSC WiSE, we work to address the leaky STEM pipeline by facilitating events where young women can connect with female science professionals, participate in science-based activities to cultivate interest and passion, as well as provide mentorship.
Our most recent outreach project is the Science Impacting Society (SIS) program which allows local middle school girls to come to campus one Saturday per month and participate in lab tours, hands-on activities, and speaker events.
Join us for a night of live music, dinner, and an active discussion with alumni and current members!
This year we're celebrating the 10th anniversary of UCSC WiSE! To celebrate and cultivate past, present and the future successes of WiSE, we will be throwing a 10th Anniversary Gala. The event is open to the public and will be on Saturday, May 18, 2019, from 6:00-9:00 pm at the Food Lounge in Santa Cruz.
Tickets
For more information and tickets go to:
https://www.eventbrite.com/e/wise-10th-anniversary-gala-tickets-59800419665
###