Events
Local award recognizes UCSC's efforts to provide local testing for coronavirus infections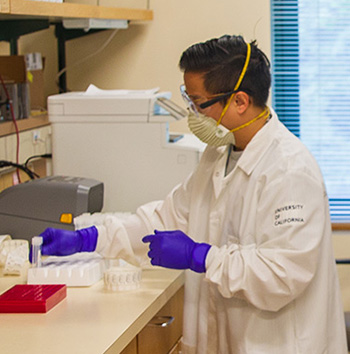 By Tim Stephens
UC Santa Cruz
October 22, 2020 — Santa Cruz, CA
(Photo above: Specialist Scott La working in the UCSC Molecular Diagnostic Lab. Photo by C. Lagattuta)
'Be the Difference' Award honors UCSC Molecular Diagnostic Lab
The UCSC Molecular Diagnostic Lab will be honored as a 2020 Group Winner in the Be the Difference Awards sponsored by the Santa Cruz County Volunteer Center. The lab's work to provide local testing for coronavirus infections will be recognized during the Be the Difference Awards Watch Party Celebration on Wednesday, October 21, at 12 noon.
UCSC scientists began planning in March to establish a diagnostic testing lab on campus to serve the needs of the community during the COVID-19 pandemic. On May 1, the UCSC Molecular Diagnostic Lab began doing coronavirus tests for the UCSC Student Health Center and other local medical providers. The effort was led by Jeremy Sanford, professor of molecular, cell, and developmental (MCD) biology, Michael Stone, professor of chemistry and biochemistry, and Olena Vaske, assistant professor of MCD biology.
In announcing the award, the Volunteer Center wrote, "We are incredibly grateful to this team of scientists, lab technicians, and researchers who used their expertise to develop processes, procedures, and administration protocol for local COVID-19 testing. In only 4 months they initiated the process for licensing, received approval from federal and state agencies, and developed the capacity to test 400 people per day in a lab they built from scratch."
The lab has continued to ramp up its testing capacity and has been processing as many as 500 tests per day in recent weeks. The lab is currently partnering with the UCSC Student Health Center to provide testing for UCSC students and essential campus personnel and with Salud Para la Gente, Santa Cruz Community Health, Encompass Community Services, and the Santa Cruz Sheriff's Office, all organizations dedicated to providing testing for the area's low-income and vulnerable residents. In addition, the lab partners with Santa Cruz County Public Health and the Santa Cruz Community Foundation to provide testing for various local community medical providers and public service entities.
The UCSC Molecular Diagnostic Lab was one of five winners of the 2020 Be the Difference Awards selected by a team of judges from among 55 nominees. Additional information about the awards and the Watch Party Celebration is available online at scvolunteercenter.org.
###
Tagged Baskin School of Engineering, COVID-19, UC Santa Cruz